Europe Day 2022: a concert to celebrate the Africa-Europe partnership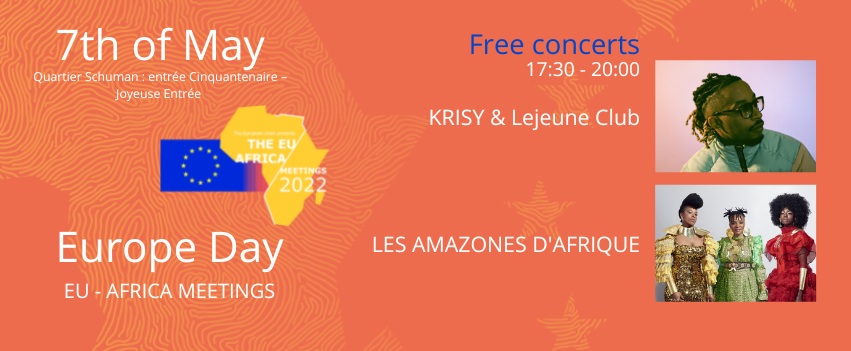 At the heart of this global dynamic, culture and interpersonal exchanges play an important role. At the symbolic moment of the "Europe Day" - which will be celebrated in Brussels on 7 May - the EU wishes to celebrate Africa-Europe relations by inviting the public to the concerts of KRISY et LeJeune Club and Les Amazones d'Afrique.
When? Saturday, May 7, 2022 from 5:30 p.m. to 8 p.m.
Where? Schuman district : Entrance Cinquantenaire – Joyeuse Entrée
Krisy
Krisy B, Lord Krisy or simply Krisy (also known as De La Fuentes as a producer) is a Belgian-Congolese singer, songwriter, rapper and producer/beatmaker from Brussels. Thanks to the many facets of his talent and his laid-back flow, Krisy has established himself as an acclaimed artist of the French rap scene.
His career that started in 2010, is a living illustration of the contribution of the African diaspora to the European music scene and culture. In this year 2022 which marks the European Year of Youth, Krisy will also offer us, during his show, the opportunity to discover some of the young talents he produces with his label LeJeune Club.
Les Amazones d'Afrique
On May 7, our stage will host Assitan "Mamani" Keita (Mali), Ahouéfa "Fafa" Ruffino (Togo) and Mamounata "Kandy" Guira (Burkina Faso) from West Africa's first female super-band, the collective Les Amazones d'Afrique.
Undisputed stars or best-kept secrets, the musicians who participate in this project are all among the most acclaimed voices in West African music. With elegance, the collective mixes generations and energies and perpetuates the Mandinka tradition by infusing it with the electricity of African megacities.
An "All-Star", but not only. Inspired by the formidable and mysterious warriors of Dahomey, these greatest singers and musicians unite to fight for the freedom to be a woman, to be a musician, in Africa, and elsewhere. The voices of these divas are those that break chains and win hearts. Their music is a powerful representation of beautiful African female voices advocating for gender equality, non-discrimination and solidarity.
The concert on 7 May is an initiative of the European Union Diplomatic Service (EEAS/European External Action Service), organized with the collaboration of the Representation of the European Commission in Belgium and the non-profit association Schuman Square.
This event is part of the 2022 EU-Africa Meetings which will also include a day of exchanges on the role of culture in the Africa-Europe dialogue to be held on June 23 at Café Congo.
PRACTICAL INFORMATION
OVERVIEW
-
05:30 pm - 08:00 pm
Schuman district : Entrance Cinquantenaire – Joyeuse Entrée