European Ombudsman Award for Good Administration handed to the EEAS and ECHO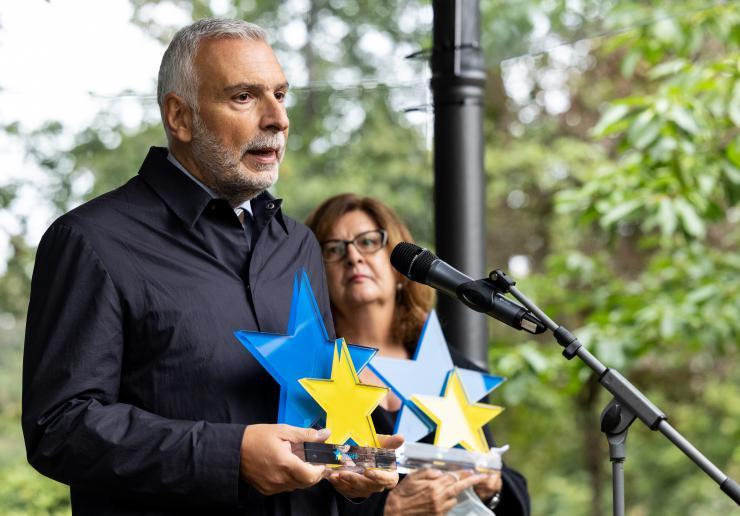 EEAS Secretary General Sannino and ECHO Director General Michou
Last May, the EEAS and DG ECHO won the 2021 European Ombudsman Award for Good Administration for bringing stranded EU citizens home during the COVID-19 pandemic. Today, EEAS Secretary General Sannino and ECHO Director General Michou received the award from European Ombudsman O'Reilly.
In early 2020, the sudden mobility restrictions after the outbreak of the COVID-19 pandemic left hundreds of thousands of EU citizens stranded abroad. In a unique exercise, the EU and its Member States joined forces to organise their repatriations.
The EEAS had a key role in this. A dedicated Consular Taskforce involving EEAS management, consular affairs, global and geographic departments worked around the clock for about two months to ensure EU citizens returned home safely.
EEAS staff, in particular the network of Consular Correspondents in EU Delegations and members of the Taskforce in Headquarters, helped on every front, from advice to EU citizens on how to handle travel restrictions to outreach to authorities to secure extension procedures for visas or transit authorisations, or coordination of repatriation flights.
Some 600,000 EU citizens reached their homes safely thanks to the joint EU efforts. Under the European Union Civil Protection Mechanism (UCPM), the EU budget directly funded the repatriation of 60,000 of them.
The European Ombudsman honoured these unprecedented efforts last May by granting the EEAS and DG ECHO the 2021 Award for Good Administration. The award ceremony took place earlier today in Brussels.
The pandemic showed the EU at its creative and human-centred best. This brought concrete benefits to EU citizens. […] This was appreciated not only in the EU but also elsewhere. The repatriations made a great impression also on our partner countries, noted European Ombudsman O'Reilly.
I am grateful to the European Ombudsman for having recognised the work of the EEAS and DG ECHO. The repatriations were an unprecedented exercise, with a strong human dimension, said EEAS Secretary General Sannino upon reception of the award.
Stefano Sannino also recalled that, while consular affairs are an EU Member State competence, EU Member States appreciated the benefits of joining forces with EU institutions as part of the repatriation exercise. He also underlined the importance of the EEAS-DG ECHO partnership in helping EU citizens, as proven again recently with repatriations from Afghanistan.
Looking ahead, with EU Delegations and EEAS services in Headquarters having proven their capacity to handle a large-scale consular crisis, the EEAS will approach the upcoming review of EU rules on consular protection with increased ambition.
For more on consular support for EU citizens stranded abroad due to the pandemic, see here.