European solidarity in action: national armed forces join the fight against COVID-19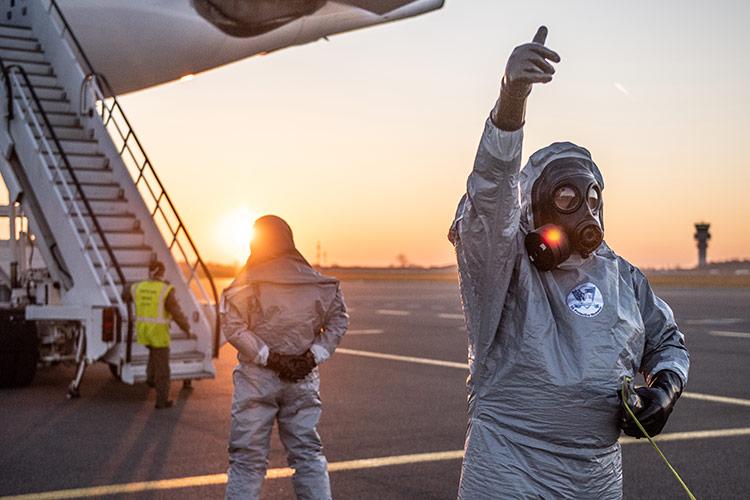 Since the outbreak of the COVID-19 pandemic in Europe, the armed forces of EU Member States have played a critical role in supporting European citizens in their respective home countries and across EU Member States, in a spirit of European solidarity.
The military have supported national authorities, the health sector and civil protection workers, as well as internal security forces by providing personnel, material, logistics, transportation – and more. Military forces have also provided timely support across EU borders, helping to repatriate European Union citizens stranded abroad, carrying infected patients from one country to the other and delivering vital medical equipment to save lives.
For example, German military planes have transported COVID-19 patients from the Netherlands, France and Italy to German hospitals to provide them with medical care and relieve ICU capacity in their home countries.
The Belgian Air Force repatriated European citizens from all over the world back to Belgium. Among them were Belgian, Italian, Dutch, Spanish, German, British and French citizens.
A cargo plane contracted by the Luxembourg Defence flew medical equipment from Zhengzhou, China, to Vilnius, the Lithuanian capital, to assist Lithuania in the fight against COVID-19.
Polish doctors from the Military Institute of Medicine travelled to the hard-hit Lombardy to assist Italian doctors during the most critical period of the crisis. They also exchanged their experiences with Slovenian doctors, in an effort to jointly improve care for COVID-19 affected patients across Europe.
To support these efforts the European External Action Service crated a dedicated task force . The task force created a special online platform for EU Member States to share information and best practices of military assistance to civilian authorities inside the EU in the fight against COVID-19.
---
Related