Latinoamérica y el Caribe, un socio fundamental para la Unión Europea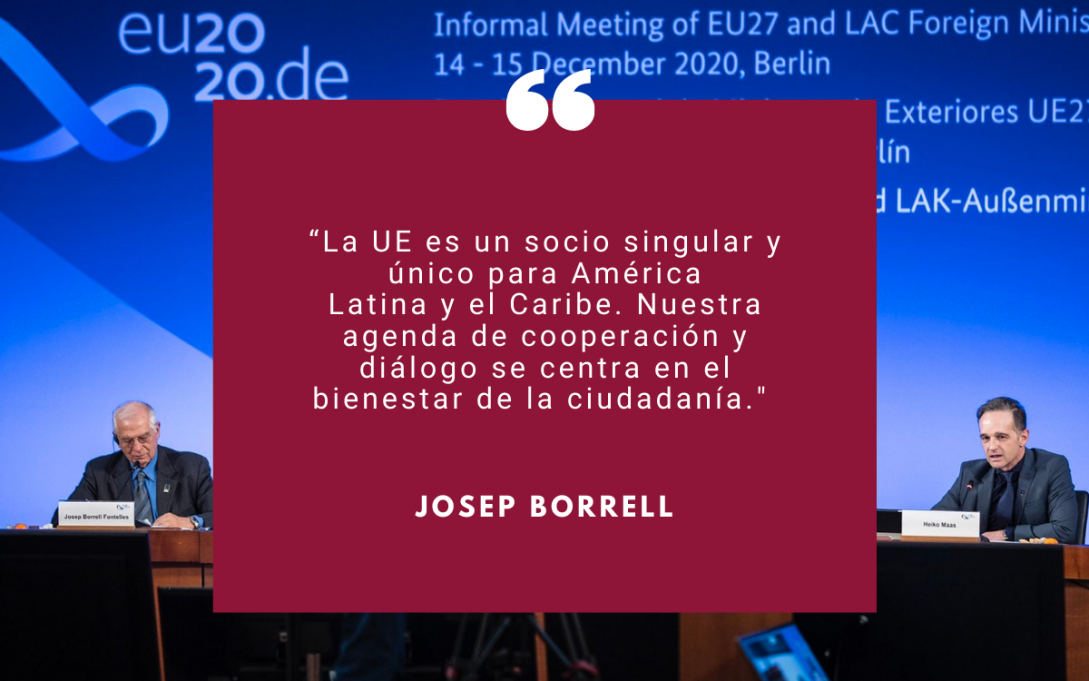 Aunque pude desplazarme a Berlín para presidir esta reunión, junto al ministro de Exteriores alemán Heiko Maas, la reunión se celebró en formato virtual. Nos centramos en dos temas clave: la acción conjunta para paliar el impacto del Coronavirus y la recuperación a medio y largo plazo, con dos objetivos fundamentales: la transición ecológica y la transición digital.
Una relación birregional por debajo de su potencial
No me cansaré de decirlo: los europeos y los latinoamericanos somos en muchos sentidos los pueblos más afines del mundo. Compartimos estrechos lazos, historia, cultura, y una visión común sobre cómo queremos organizar nuestras sociedades y nuestras economías. Sin embargo, nuestra relación birregional sigue estando por debajo de su potencial. Debemos trabajar más estrechamente para hacer frente a los grandes desafíos que compartimos y defender nuestros objetivos en la esfera internacional, con el peso que nos corresponde.
Juntos representamos casi un tercio de los votos en Naciones Unidas
Latinoamérica es un socio político y comercial fundamental para la Unión Europea. La UE es el primer contribuyente en materia de ayuda al desarrollo en la región y en volumen de inversión extranjera directa con casi 800.000 millones de euros; más del total de la inversión de la UE en China, India, Japón y Rusia juntos. Pero nuestra alianza va mucho más allá de lo económico.
Nuestra agenda de cooperación y diálogo se centra en el bienestar de la ciudadanía (renovación del contrato social, democracia, inclusión social…). Defendemos un orden internacional basado en normas compartidas, la lucha contra el cambio climático, el fortalecimiento del sistema de las Naciones Unidas, los derechos humanos o cuestiones tan urgentes como el acceso universal a la vacuna contra el COVID 19.
Fortalecer la autonomia estratégica de ambas regiones
El refuerzo de nuestra asociación, como constatamos en Berlín, contribuirá por tanto también a fortalecer la autonomía estratégica de ambas regiones, nuestra capacidad para defender nuestros estándares, liderar el cambio y forjar así nuestra alternativa al sistema internacional basado en la rivalidad geopolítica como la que enfrenta a China y EEUU.
"Europa debe prestar la atención que merece también a nuestra "otra" relación transatlántica."
Europa debe prestar la atención que merece también a nuestra "otra" relación transatlántica.
El impacto del COVID-19 en América Latina ha sido dramático. El aumento de la pobreza y las desigualdades es alarmante. Con solo el 8 % de la población mundial, la región registra un tercio de las muertes a nivel mundial. En Europa también sufrimos enormemente los efectos de la pandemia. La solidaridad y la unidad de esfuerzos será la única manera de hacer frente con éxito a este enemigo común.
La UE, sus Estados miembros y las instituciones financieras europeas se han hecho eco de esta premisa y se han unido de manera inédita como "Equipo Europa" , para movilizar los recursos disponibles. Concretamente para América Latina y el Caribe se han reunido más de 2.400 millones de euros para ayudar a amortiguar el impacto del COVID-19. Un primer paso, aunque insuficiente.
Precisamente, en nuestra reunión ministerial abordamos esta cuestión - la lucha contra el impacto de la pandemia y la necesidad de poner en marcha el plan de trabajo común necesario para lograr una recuperación basada en un modelo sostenible, que permita la generación de empleo a la vez que protegemos el medio ambiente. Esta "agenda verde" es una de nuestras prioridades compartidas.
La región alberga el 50% de la biodiversidad del planeta. Revertir la deforestación en el bosque tropical amazónico es una de las cuestiones de mayor preocupación mundial. Necesitamos acciones urgentes y más ambiciosas que realizar individual y conjuntamente en el marco del Acuerdo de París de la COP 26 en 2021.
Acuerdos comerciales y de asociación, un componente crucial de nuestra alianza
También en el marco de nuestros acuerdos comerciales y de asociación. Estos son otro componente crucial de nuestra alianza. La Unión Europea ha negociado acuerdos de asociación política y de cooperación o comercio con 27 de los 33 países de América Latina y el Caribe: es la región con mayores vínculos e instituciones compartidas con Europa. Estamos modernizando los acuerdos con Chile y México, donde la UE es la primera y segunda fuente de inversión extranjera, respectivamente. También acabamos de concluir, tras 20 años de negociación, un acuerdo con Mercosur (Argentina, Brasil, Paraguay y Uruguay), que tendrá, una vez ratificado, una gran relevancia geoestratégica.
Queremos también crear una Alianza Digital para acelerar la transicion digital, con inversiones importantes en capacidad de banda ancha e infraestructura. Otro gran desafío que ha quedado en evidencia con la pandemia del COVID. Contamos ya con el ejemplo tangible de lo que puede llegar a ser nuestra cooperación en este campo: la finalización el próximo año del BELLA, un cable transatlántico de fibra óptica que unirá a Europa y América Latina.
La pandemia no ha hecho más que ahondar fragilidades ya existentes. Ahora, la región de América Latina y el Caribe enfrenta la peor recesión registrada. Se prevé que sus economías se contraigan un 9% en 2020. Al mismo tiempo, los niveles de deuda pública restringen el margen de maniobra de los gobiernos. Y todo ello ralentiza el progreso hacia la Agenda 2030 y los importantes Objetivos de Desarrollo Sostenible.
Un escenario de inestabilidad política y económica no es en absoluto en el interés de nadie, ni para la región de América latina y el Caribe ni para la UE. Pero ahondará el riesgo de ruptura del orden democrático y el estado de derecho que existe en la región.
Sin olvidar los efectos del cambio climático, que tienen un impacto devastador, como lo están demostrando los sucesivos desastres naturales, sobre todo en la región del Caribe. Todos estos desafíos trascienden las fronteras de los países afectados.
No existe una varita mágica per solucionar todos los problemas
Por todo ello, es fundamental que, sin más demora, la UE refuerce su alianza con la región. No disponemos de una varita mágica para solucionar todos los problemas. Pero sí de herramientas que nos permitirán trabajar juntos, de manera más efectiva e influyente, si elevamos nuestra relación al nivel estratégico que le corresponde.
Esta reunión ministerial conjunta, que ha reunido a 50 socios de la UE y América Latina y el Caribe, debe el pistoletazo de salida para que, en 2021, y en la medida en que las condiciones lo permitan, demos paso a una agenda más dinámica de encuentros, y al mayor alto nivel, entre ambas regiones.
http://twitter.com/JosepBorrellF/status/1338560691469508610
MORE FROM THE BLOG
HR/VP box

"A Window on the World" – by HR/VP Josep Borrell
Blog by Josep Borrell on his activities and European foreign policy. You can also find here interviews, op-eds, selected speeches and videos.