"
"في الأوقات الصعبة التي نعيشها، نحتاج إلى تعزيز اثنين من أصولنا الرئيسية: التعاون، لمواجهة التحديات الراهنة، وتمكين الشباب لبناء غد أفضل.
وبهذه الروح، أطلقنا حملة عالمية بمناسبة اليوم العالمي للشباب، والتي ستستمر حتى الدورة السابعة والسبعين للجمعية العامة للأمم المتحدة في شهر سبتمبر/أيلول. سنجمع الشباب من جميع أنحاء العالم للتعبير عن آرائهم ومشاركة أولوياتهم ورؤيتهم.
هدفنا ليس فقط تمكين الأجيال الشابة، ولكن أيضًا تحفيزهم على تحمل نصيبهم من المسؤولية وتمكين أنفسهم، لرفض الحواجز المرتبطة بالعمر، تضامنًا بين الأجيال. إن الشباب ليسوا المستقبل فقط: بل هم الحاضر. إنهم بناة عالم أكثر استدامة وعدلاً وسلمًا".
في شهر سبتمبر/أيلول من هذا العام، ستجتمع دول العالم كما في كل عام في نيويورك في الجمعية العامة للأمم المتحدة (#UNGA77) لمناقشة التحديات الراهنة التي تواجه البشرية ولتحديد جدول الأعمال العالمي للعام المقبل. تتم صناعة التاريخ في الدورة السابعة والسبعين للجمعية العامة للأمم المتحدة، ولكن ليس هذا فقط... فكل منا له رأي، ويجب أن نعبر عنه من أجل التغيير. من خلال حملة  #صوتنا_مستقبلنا #OurVoiceOurFuture، ندعو الشباب من جميع أنحاء العالم لمشاركة رؤيتكم ومُثُلِكُم ورغباتكم نحو عالم أكثر ازدهارًا واستدامة. هذه لحظة مهمة لسماع صوتكم وإرسال رسالة قوية إلى العالم. يمكن أن يكون لكل قصة من قصصكم قوة تغيير، ويمكن أن يؤدي توحيد القوى إلى إحداث التغيير. بصفتنا الدائرة الدبلوماسية للاتحاد الأوروبي، فإننا نعمل مع شركاء في جميع أنحاء العالم من أجل السلام وحقوق الإنسان والتنمية وسيادة القانون. نعتقد أنه فقط من خلال العمل معًا يمكننا تحقيق مستقبل أفضل للجميع. ونعتقد أن الشباب يجب أن يكونوا القوة الدافعة للتغيير. لذا انضموا إلى حملة #صوتنا_مستقبلنا على وسائل التواصل الاجتماعي.
Young Champions
Anton Serdiuchenko
Ukraine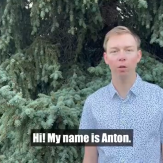 "My name is Anton. I am Ukrainian. Currently, I live in Pavlohrad, Dnipro region. It's less than 200 kilometres away from the frontline.
For me, like millions of Ukrainian men and women, it is important to achieve peace in my country and in the whole world. I call on everyone who can – help Ukraine stop the aggressor and achieve peace in the largest country in Europe."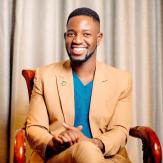 "I choose to celebrate my youth and spotlight the many trajectories we take as young people of the 21st century. The journeys that shape who we are, the moments that define our causes and the inspiring actions we take to uplift our communities.
As an advocate for positive change I am choosing to spotlight some of the key issues that affect young people including Equality, Access to Education, Poverty Eradication and Mental Health."
"Success has no age, has no limit, has no race. You can be who you want to be as long as you are determined to be."
Alexandra Bulat
United Kingdom / Romania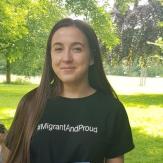 "To create a better future for all of us, we need rights and representation. From fighting the climate crisis to standing up for the rights of our communities, we can only achieve long-lasting and meaningful social change by working together."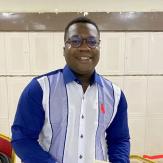 "In our society, and it is very sad to see still in 2022, many people, under the pretext of your age, refuse you opportunities or are opposed to the fact that others give you responsibility for projects or important tasks. I would like to take this opportunity to remind you of the importance of giving a voice to young people and the need to entrust them with positions of responsibility."
Sophie Handford
New Zealand
"Raising our voices during the key diplomatic moment of the year, and having them heard through the support of the European External Action Service, has the potential to bring change and shape our future."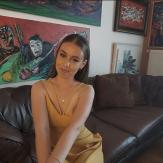 "My name is Andja Stanojković, and I'm a 19-year-old student from Serbia. As a Young European Ambassador and activist, I think that we as young people are the initiators of positive changes in this world. We are the change-makers and we must allow our voices to be heard by adults, politicians and policy makers. Because we are the future!"
Francisco Vera Manzanares
Colombia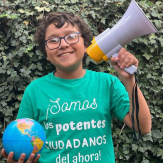 "Esta sociedad adultocentrista nos ha dicho que podemos opinar cuando seamos mayores de edad, que transformar nuestra realidad no es posible, que vayamos a jugar mientras los mayores definen nuestro presente y futuro. Hoy reiteramos que los niños, niñas y jóvenes somos los potentes ciudadanos del ahora y que nuestra voz - la que siempre hemos tenido y han querido muchas veces acallar - debe ser escuchada. Hoy reivindicamos el poder que tiene nuestra voz para hacerle frente a los grandes retos de nuestro tiempo, con decisión, con #ecoesperanza, con el poder de la alegría que nos permite transformar nuestro entorno desde múltiples orillas."
"Our generation continues to push barriers, all whilst obliterating societal norms, in order to create and mold the world we want to exist in. The topic of mental health has been of paramount importance to us. We have since normalized open dialogue, allowing individuals safe spaces to express themselves. Mental health conversations can be cooperated into so many different topics whether it be global crises, societial pressures, religion, etc. In the words of James Levine, "We are in the midst of an EVOLUTION, not a REVOLUTION""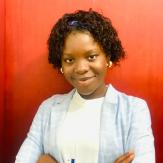 "I believe we all can reach our full potential if we are provided the right resources, mentorship and opportunities.
With my voice, I choose to highlight the issue of Food Security by urging world leaders to adequately implement existing food security policies and ensure global food security for all."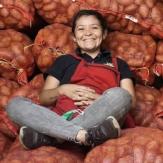 "Cada país vive etapas y momentos distintos pero que la solidaridad y empatía sean la clave para salir adelante, unidos como hermanos."
"The people who build bridges will always outnumber the people who build walls."
Our young champion Jessica Mshama took over the EEAS Instagram account in New York for two days. While attending the United Nations General Assembly, Jessica shared several stories of the backstages of the event. She also managed to collect key messages of support from special guests.
Take a look at all Instagram stories published during the High-Level week of the UN General Assembly, the Instagram takeover by our young champion Ricardo Pineda Guzman and much more!
أنتم تتحدون، تلهمون، تبتكرون. أنتم تحققون ذلك.
شاركوا وعبروا عن آرائكم.
بدأت حملة #صوتنا_مستقبلنا OurVoiceOurFuture# وستستمر حتى 27 سبتمبر/أيلول، وهو اليوم الختامي لأسبوع الأمم المتحدة رفيع المستوى في نيويورك.
مجموعة أدوات الوسائط الاجتماعية للحملة
#SautiYetuMustakabaliWetu
انشروا المحتوى الخاص بكم لإخبار قصتكم حول موضوع الحملة
ادعوا / تحدوا الآخرين للانضمام
ما عليكم سوى استخدام وسم/هاشتاغ #صوتنا_مستقبلنا #UNGA77 في أي منشورات ذات صلة تنشروها خلال فترة الحملة على وسائل التواصل الاجتماعي
ضعوا إشارة لحساباتنا * وتفاعلوا مع محتوى الحملة الذي سنشاركه على حساباتنا على وسائل التواصل الاجتماعي. سيتم نشر المحتوى الأكثر تفاعلاً على حساباتنا المركزية وحساباتنا باللغة العربية.
فيسبوك: European External Action Service - EEAS
انستغرام: @EUbilAraby و @eudiplomacy
تويتر: @EUinArabic و @eu_eeas



* تنويه: من خلال وضع إشارة لحساباتنا وتضمين الوسوم/الهاشتاغ الخاصة بالحملة، فإنكم توافقون على نشر المحتوى الخاص بكم على موقع 

EEAS

 الإلكتروني وقنوات التواصل الاجتماعي
انشر

وا

مقطع فيديو تحكوا فيه قصتكم بمفردكم أو مع مجموعة من الأصدقاء

انشروا مقطع فيديو وأنتم تؤدون مقطوعة موسيقية أو أغنية أو قصيدة

انشروا مقابلة أجريتموها مع شخص ما تعكس أهمية العمل معًا نحو مستقبل أفضل

انشروا عملكم الفني الذي يعكس التحديات التي تواجه البشرية اليوم
تأكدوا من استخدام الوسوم/الهاشتاغ الرسمية #صوتنا_مستقبلنا #UNGA77 #OurVoiceOurFuture
{"service":"smk","type":"search","incl_hashtags":"","result_type":"recent","query":"#OurVoiceOurFuture, OR #NotreVoixNotreAvenir, OR #NuestraVozNuestroFuturo, OR #\u0635\u0648\u062a\u0646\u0627_\u0645\u0633\u062a\u0642\u0628\u0644\u0646\u0627"}
Page Updated: