#StandWithUkraine: Solidarity from Malta in Moldova
Upon their arrival in Moldova, Lorna and Douglas were welcomed by Pasteur Slavic who runs the Dancu Community. At the time, there were some 35 refugees at the centre, women and children, some of whom were sleeping on mattresses on the floor. Lorna and Douglas set to work immediately to provide these women and children with more comfortable living and sleeping quarters. They purchased the necessities required to finish an area in the Community Centre to accommodate these refugees, with funds they had collected prior to their mission.
"When we arrived in Moldova we realized that the first thing we needed to do was to adapt and improve the current living conditions for the 35 Ukrainian women and children already hosted at the Dancu Tabita centre. These refugees had been living at the centre for around 7 weeks and will be staying there for weeks, if not months, to come, so we wanted to make their stay more comfortable," said Douglas.
They also saw that the Dancu Tabita Centre had the potential to accommodate some 80 other people in its spacious attic, therefore they took the initiative to raise more funds to complete a project with living facilities including bedrooms and bathrooms to shelter more refugees, together with Pasteur Slavic and the members of the community.
Members of these NGOs are incredible people, superheroes without a cape!
But their mission did not stop there. They also purchased food items and organised round-trips with food drops in Ukraine and transportation of people out of Ukraine. 'We tried to maximise on the transportation' explained Lorna since each trip with food drops and evacuations lasted around 18 hours. To this end, they linked up with NGOs in Ukraine who delivered the food from Odessa, where they dropped it off, to the more high-risk areas in Ukraine – 'The members of these NGOs are incredible people, superheroes without a cape!' Douglas remarked. 'These were ordinary people who were leading a normal life before the war, pharmacists, hoteliers, and people from all walks of life whose lives switched overnight, and now they are the essential people performing the risky task of delivering food to cities that are most impacted by the war.'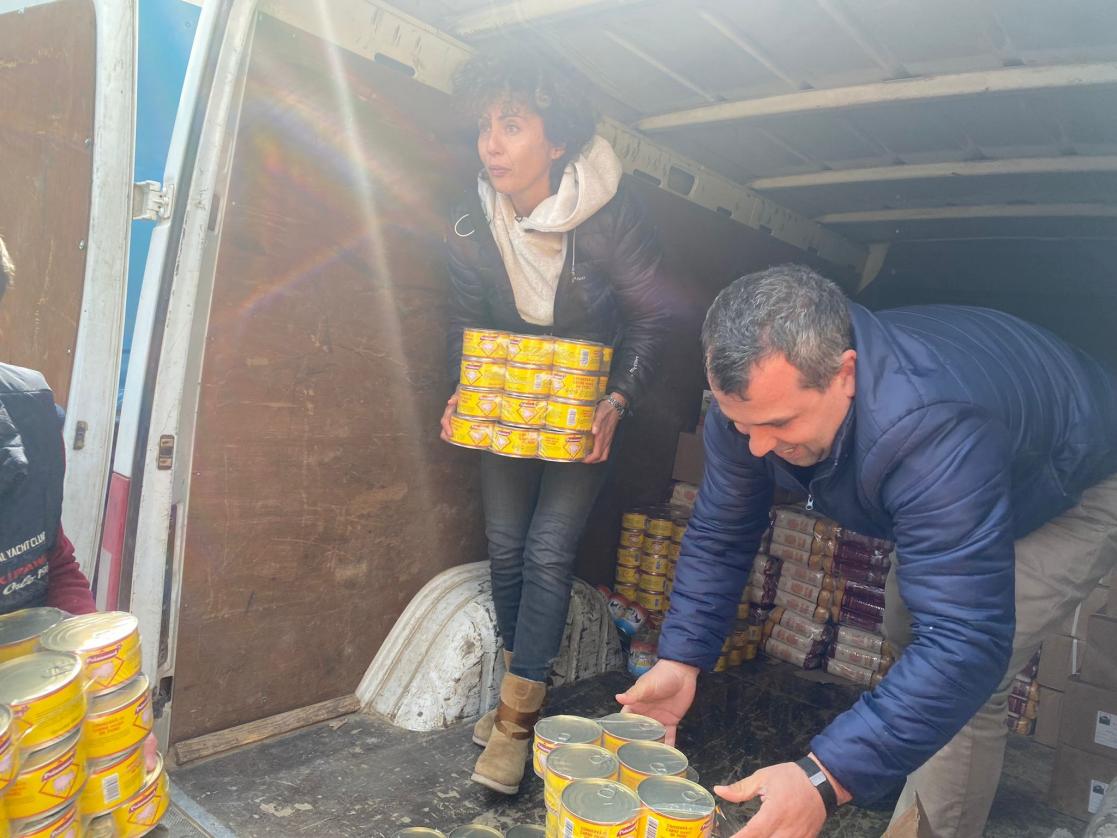 We travelled to Odessa three times… once you cross the border you immediately feel an emotional change.
'We transported about 2 to 3 tonnes of food each time,' said Lorna as she went on to describe their experiences.
'Our first food drop had to be very quick and took place at a petrol station. There were several checkpoints with soldiers checking passports and documents and inquiring about the food in our vans, checking invoices etc…'
The second time, they were met by a religious community in a church, which had converted the church hall into a food storage space.
On their third journey, they dropped off the food at a mental hospital. 'By that time we thought we had become more confident and got used to the process, however when we entered this area it was quite overwhelming as we could sense the reality of the situation, aspects of the war that we do not identify with… it led us to think "what would happen to these vulnerable people whose lives are centered around this place if the hospital comes under attack?" It is quite emotional when you come to think of vulnerable people like the sick and poor people in these situations'
Douglas added that the whole experience is intense, relating one of the most impactful instances when they got on one of the evacuation buses at the frontier to hand out some tea and snacks provided by the Dancu Tabita Community to the people on board. 'There were women, children and elderly people with their pets, who had no idea where they were going... People who left behind their husbands, sons, fathers to fight in the war.' Douglas paused and then continued: 'You could feel their pain, and see the blank expression on their faces… and the fear in their eyes… even if they are safer, they don't know where they are going to…'
Even amongst the refugees in the temporary home at the community centre, you can sense the fear in the people who were impacted by the air raids. 'One day while we were playing outside with the kids, a commercial plane was flying by and these kids just disappeared… they are traumatized.'
Douglas and Lorna spent the last day in Moldova with the Ukrainian women, children and some of the Moldovan volunteers.
"We went to a park, grabbed some pizza and closed off the day at an entertainment center for kids. What a day it turned out to be just by simply giving them some form of 'normality'...  The smiles we saw on their faces, the mums happy to see the kids being happy."
The cousins returned to Malta a few days ago but what are their next plans?
Lorna and Douglas are already making preparations to go back to continue assisting the indispensable work that NGOs are doing both in Moldova and Ukraine, to support the people of Ukraine, and are very grateful to the donors who are helping out financially to make this possible, and above all the brave people of Ukraine.
This may be a drop in the ocean, but every drop is important for the people of Ukraine.