Team Europe contributes to COVAX Facility in the Philippines
On 4 March 2021, the first 487,200 vaccines provided to the Philippines under the COVAX facility have arrived in Manila. These vaccines as well as 40 more million doses which are yet to come are part of the COVAX facility to which Team Europe is the biggest contributor.                                     
Under the Team Europe approach, the EU has to-date provided Php 130 billion which corresponds to € 2.2 billion to help 92 low and middle-income countries, including the Philippines, to help gain access to COVID-19 vaccines.
"Team Europe is proud to contribute to the COVAX facility to help provide for affordable and fair access to vaccines for Filipinos", said European Union Ambassador Luc Véron.  "Under COVAX, the Philippines will receive vaccines for 22 million Filipinos."
The objective to innoculate 20% of the population is to end the acute phase of the crisis.
"The EU has both a responsibility and interest to make vaccines available to all". "The European Union has maintained its goal to work in solidarity for vaccine cooperation and multilateralism – none is safe until everyone is safe".
The first batch of vaccines is produced by the British-Swedish company Astra Zeneca.
The European Union is committed to ensure global and equitable access to vaccines, tests and treatments. The EU has invested billions not only into vaccines research, but also diagnostics, treatment, epidemiology, protective equipment, as well as modernisation of health systems. The EU was the main contributor behind the development of the first safe and successful vaccine developed by BioNTech and Pfizer, making it the first COVID-19 vaccine authorised in the EU.  
(Reference: https://ec.europa.eu/commission/presscorner/detail/en/ip_20_2466)
BACKGROUND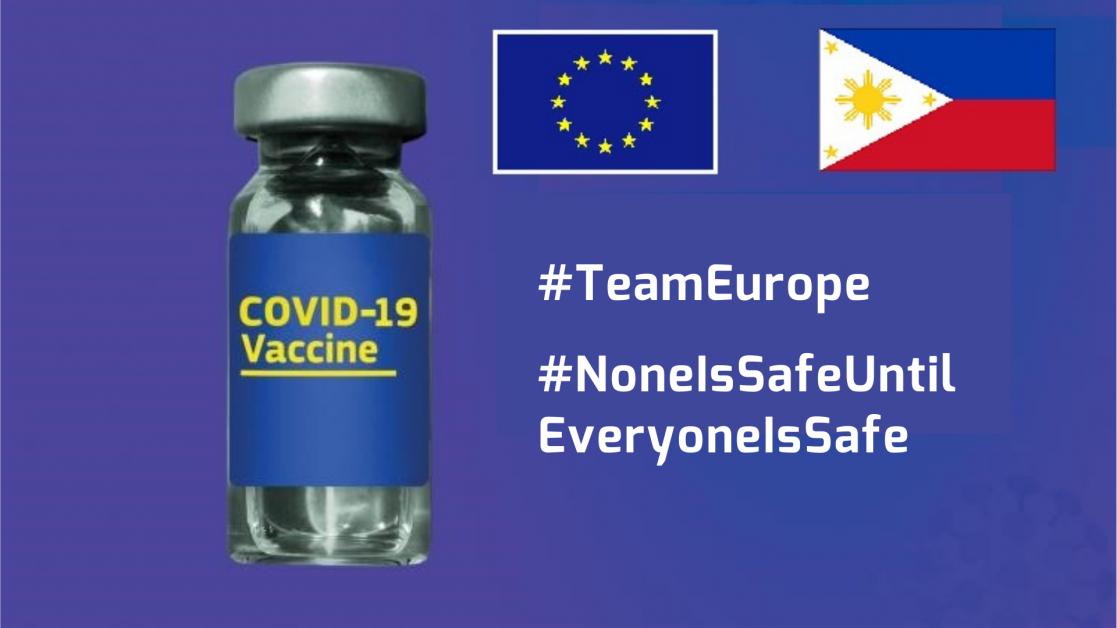 Team Europe [the EU and its Member States with the European Investment Bank] has mobilised a global recovery package of €38.5 billion to help our partners across the world address the immediate health emergency and humanitarian needs, strengthen health systems and support the economic recovery and social protection.  COVAX is the best vehicle for delivering on international vaccine solidarity and we welcome first deliveries are already taking place.
To-date, Team Europe (including the EIB) has announced over € 2.2 billion for the COVAX Facility to help secure 1.3 billion doses of vaccination for 92 low and middle-income countries by the end of the year.
Last year, European Commission President Ursula Von der Leyen organized two global pledging events in May and in June last year, which collected € 16 billion for responding to combat COVID-19. The EU also initiated the Resolution on COVID-19 which was adopted at the World Health Assembly in May of last year.
The EU has also stepped up its digital strategy to help monitor the spread of the coronavirus; to research and develop diagnostics, treatments and vaccines; and to help sustain connectivity.