Uganda receives 1st batch of Covid19 vaccines thanks to #TeamEurope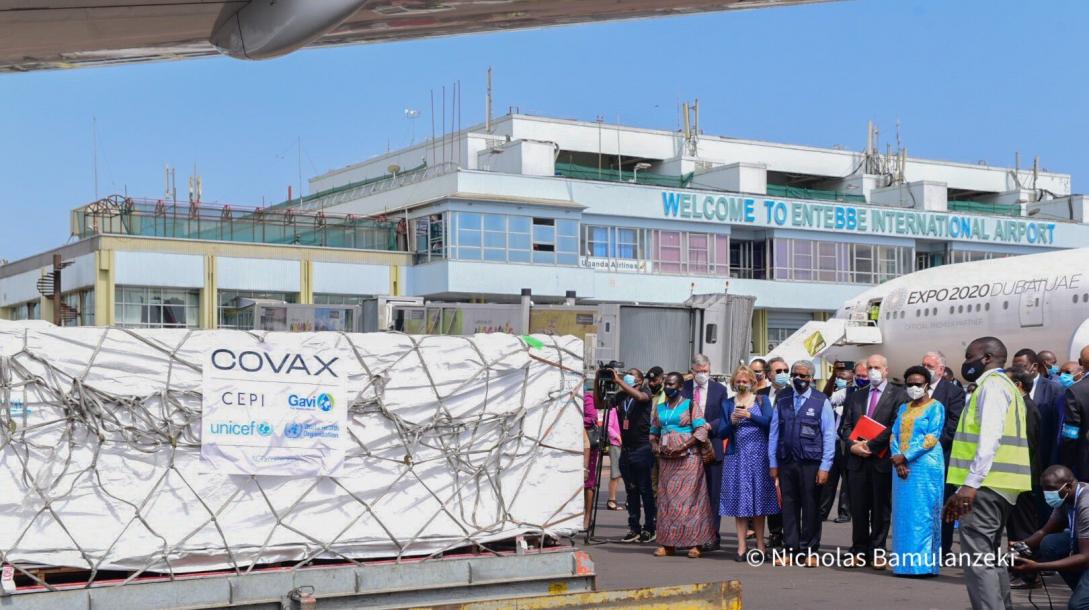 Uganda's Ministry of Health yesterday received 864,000 doses of the AstraZeneca COVID-19 vaccine, shipped via the COVAX facility—the world's facility for universal access to COVID-19 vaccines.
The arrival marks a historic step towards the goal to ensure equitable distribution of COVID-19 vaccines globally, in an unprecedented effort to provide at least 2 billion doses of COVID-19 vaccine by the end of 2021.
The vaccine doses were received at Entebbe International Airport by Uganda's Health Minister, Dr. Jane Ruth Aceng Ocero accompanied by members of the COVAX Facility and ambassadors of the European Union led by EU Head of Delegation to Uganda, H.E Attilio Pacifici and countries whose funding enabled manufacturing, transport, and distribution.
#TeamEurope is the biggest donor to the COVA facility and has provided more than 2.2 billion Euros in committments to secure equitable access for all countries, including Uganda. 
The COVAX facility has allocated 3,552,000 doses of the AstraZeneca vaccine to Uganda for the period of January – June 2021. The remaining 2,688,000 doses are expected by June 2021.
"The arrival of the vaccines in Uganda is a significant moment and a concrete example of global solidarity in action," said Ambassador Pacifici. "Ever since the outbreak of this unprecedented crisis, which is affecting all of us, the European Union and its Member States have supported Uganda and our other African partners in responding to the COVID-19 pandemic. After months of work, we are seeing the EU Vaccines Strategy bear fruit – access to safe, effective and affordable vaccines at the same time for our citizens, our neighbours and partners across the globe."
"Health care providers have been pivotal in managing the COVID-19 pandemic in Uganda. With their crucial role, dealing with patients, comes the high risk of being infected with the disease. We, therefore thought it wise to have them immunized first along with teachers to protect them," said the WHO Representative to Uganda, Dr. Yonas Tegegn Woldemariam.
"We specially want to thank the donor partners including the European Union, the UK Government, The United States of America and others for the support they made to COVAX through GAVI to make this possible," he added.