A Window on the World - Blog by HR/VP Josep Borrell
TWITTER
{"service":"smk","type":"user","display_user":true,"display_user_pic":true,"auto_expand_photo":false,"auto_expand_video":false,"target":false,"screen_name":"@JosepBorrellF","count":"1","include_rts":false,"rts_display_original":false,"exclude_replies":true,"tweet_more_btn":true}
In European foreign policy, we are permanently confronted with conflicts in our neighbourhood, growing competition between rival powers, challenges to the multilateral system and our values, disputes over the terms of trade and who sets the rules on technologies, and the global effects of climate change – to name just a few issues we deal with every day.
The post of EU High Representative for Foreign Affairs and Security Policy / Vice-President of the Commission (HR/VP) offers a wide-open window on the world. As any observer, I am influenced by my own perspective. I do not agree with the relativism of 19th-century Spanish philosopher de Campoamor claiming in a famous poem that nothing is true or false and that everything depends on "the colour of your glasses". Some things are definitely true and others false, but we have to deal with different positions on almost all subjects. We live in a permanent 'battle of narratives' about the issues that determine our future. We have to understand these different positions if we want to look for a common ground. In particular common ground among Europeans, which is the duty of the HR/VP.
With this blog, I intend to take a step back and contribute to building a European common strategic culture. The responsibilities of the HR/VP do not always allow me to speak out as clearly as I would like. But I will try to present here my personal views, looking through the glasses of a convinced European, on the main issues at stake for Europe and its global role. Thank you for giving these thoughts your time and attention. I hope this blog can help create better understanding of the issues on which we are engaged.
In addition to my blog posts, you will also find here a repository of interviews, speeches, opinion pieces and videos.
Vlog
HR/VP video blog - Latin America & the Caribbean is a part of the world with which we have great political, historical and cultural affinity, and with which we are united by very important institutional and economic ties. HR/VP Josep Borrell explained us why this partnership matters so much to the EU.
Well, we have been in Berlin discussing about Latin America. We had a big meeting with all the Latin American Ministers. It's time to talk about Latin America and put it more on the radar and on the agenda of the European Union.
What was the objective of the EU-Latin America and Caribbean  Informal Ministerial Meeting?
It's been five years since there was a summit between Europe and Latin America. This is an anomaly in the relations between Europeans and that part of the world with which we have very close political, historical and cultural affinity and with which we are linked by very important institutional and economic ties. That is why this ministerial meeting was particularly important to mark a point of reunion and to open up ways of improving our cooperation and our political dialogue.
How can we respond to COVID? How can we face global challenges such as climate change or the digital transformation? And how can we strengthen our commercial ties? I think these are very important issues. 
Latin America and the Caribbean seem very far away. Why is it important for the European Union?
It is not a problem of physical distance. We are now talking a lot about the new transatlantic relationship. Looking at Washington as if the Atlantic was just the North Atlantic. There is another transatlantic relationship. There is another Atlantic. The South Atlantic. We are transatlantic also with Latin America and we should be engaged with this transatlantic relationship. First, because we invest a lot in Latin America. European companies have invested in Latin America more than in China, Japan, Russia and India combined. When I am told this, I am amazed. We are...
20.12.2020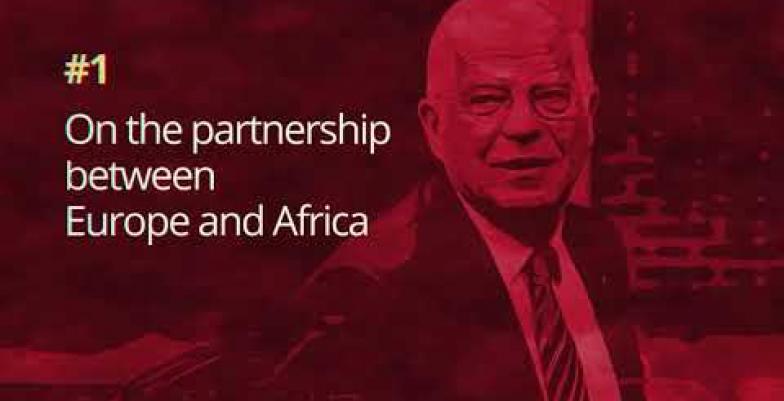 HR/VP video blog - We need to strengthen our partnership because our political, economic and security future is at stake when it comes to our relations with Africa, a young and dynamic continent. The EU is still Africa's first partner in many areas, but we are facing more and more competition.
The EU's relationship with Africa is a key priority for the new Commission, which launched earlier this year the basis for a new strategy with Africa. In his first video blog ("vlog"), HR/VP Josep Borrell elaborates on this and reflects on EU-Africa relations - following the European Council's recent discussion on this subject.
The vlog focuses on five key topics: 1) The EU-Africa partnership and why it is important, 2) The impact of the coronavirus and how the EU and Africa cooperate on combatting the Covid-19 pandemic, 3) How to manage the partnership in practice, 4) The relationship with view to migration, 5) The implications of the EU Green Deal for EU-African relations.
In answering these questions, HR/VP Borrell underlines that the EU has to be ambitious, but realistic, should be clear about its interests, and that it is crucial to be concrete and visible to achieve results.
In addition to the written blog posts, the HR/VP's personal Blog A Window on the World will as of now feature regularly vlogs on pertinent EU foreign policy issues presenting his view.
Full transcript of the video:
HR/VP vlog on the partnership between Europe and Africa
Well, last week, the European Union Council discussed about Africa - about the European Union partnership with Africa. And I wasn't able to attend because I was in quarantine by Covid-related measures. But I followed this discussion and in the coming weeks, we'll have to continue reaching out to Africa in order to prepare the Summit between African Union leaders and European Union leaders. So we are going to talk a lot about Africa in the next days. Let's start.
Q: Why does Africa matter and why should we...
29.10.2020
Videos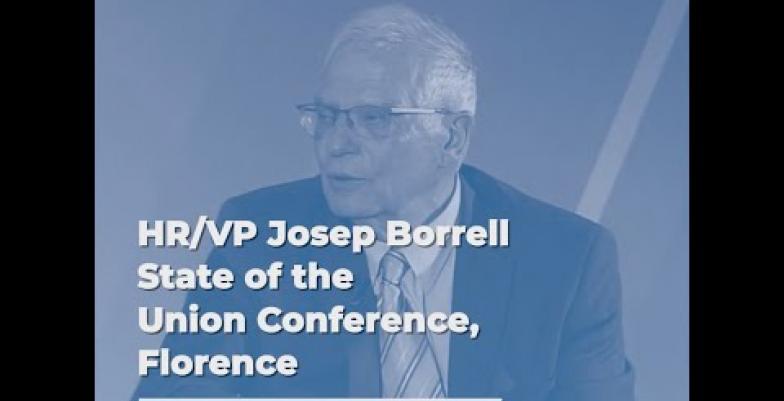 HR/VP in a conversation with Alexander Stubb and Méabh Mc Mahon at the State of the Union Conference in Florence, Italy.
10.05.2022
HR/VP opening speech of the Festival d'Europa in Florence, Italy. Full HR/VP Josep Borrell speech available here.
05.05.2022
HR/VP Josep Borrell doorstep ahead of G7 and NATO meetings, 7 April 2022.
07.04.2022
The European Union's position has been very clear: we will continue to advance the sanctions as long as the Russian aggression continues.
We are today submitting proposals for the Council approval for more sanctions to further cripple Putin's war machinery, following the atrocities committed by the Russian armed forces in Bucha and other places under Russian occupation in Ukraine.
06.04.2022
HR/VP remarks on the situation in Ukraine and the EU Sanctions against Russia during the European Parliament Plenary session on 6 April 2022.
06.04.2022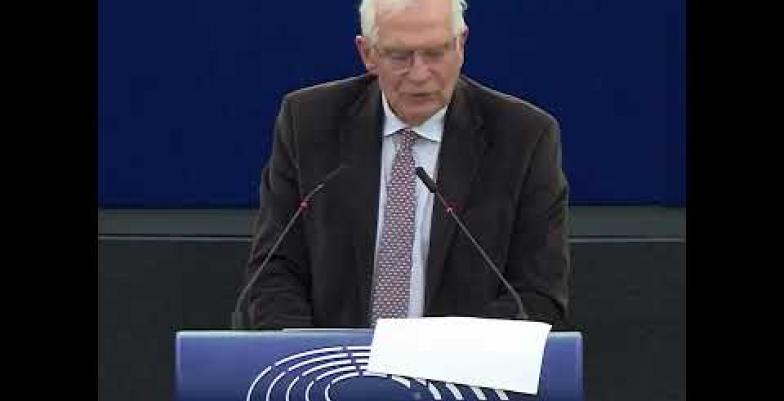 HR/VP remarks on EU-China Summit during the European Parliament Plenary session on 5 April 2022.
06.04.2022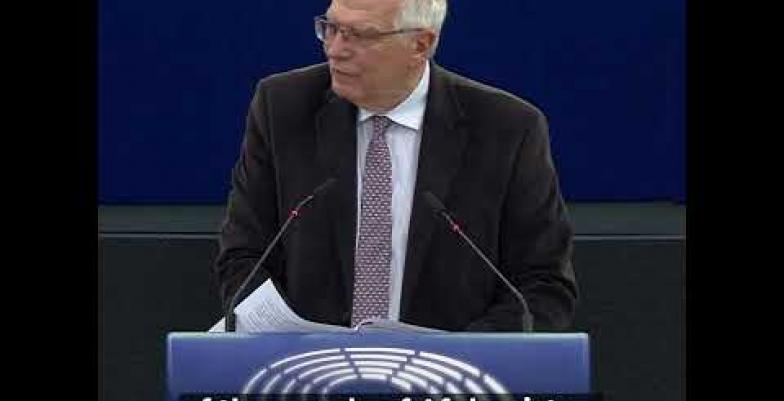 HR/VP remarks on Afghanistan & Women's rights during the European Parliament Plenary session on 5 April 2022.
06.04.2022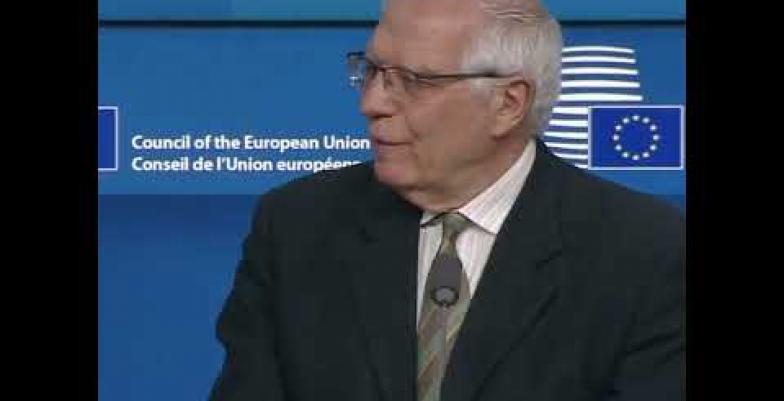 On 22 March 2022 the Council has formally approved the Strategic Compass, at a time when we witness the return of war in Europe. The Compass gives the European Union an ambitious plan of action for strengthening the EU's security and defence policy by 2030. The more hostile security environment requires us to make a quantum leap forward and increase our capacity and willingness to act, strengthen our resilience, and invest more and better in our defence capabilities.
04.04.2022
HR/VP remarks on the war in Ukraine during the Doha Forum 2022 in Doha, Qatar on 26 March 2022.
26.03.2022
HR/VP Josep Borrell doorstep ahead of the European Council on 24 March 2022.
24.03.2022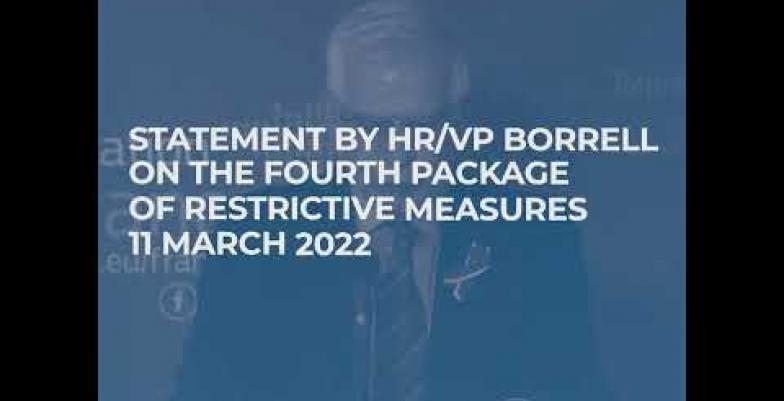 On 11 March 2022, HR/VP Josep Borrell gave a press statement on the 4th package of restrictive measures against Russia.
11.03.2022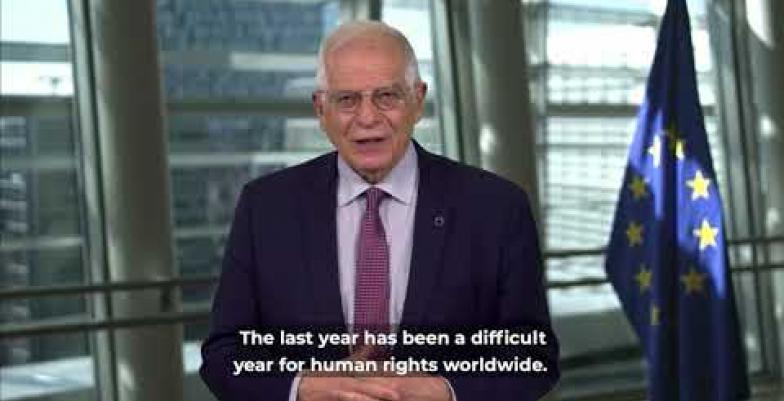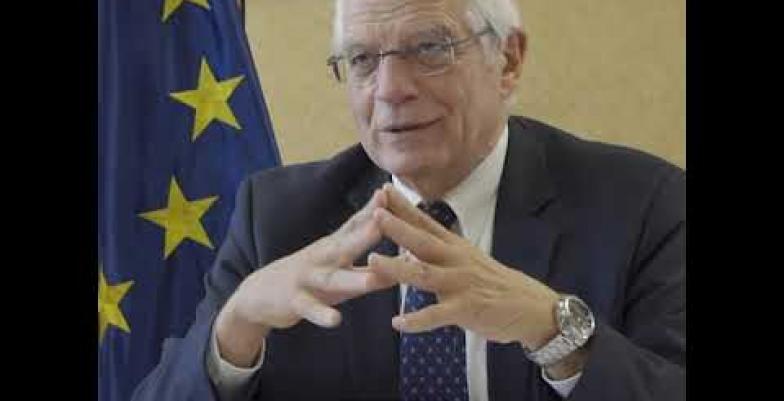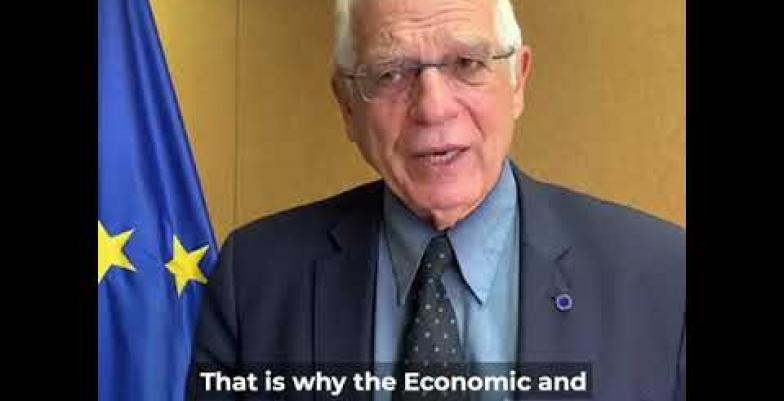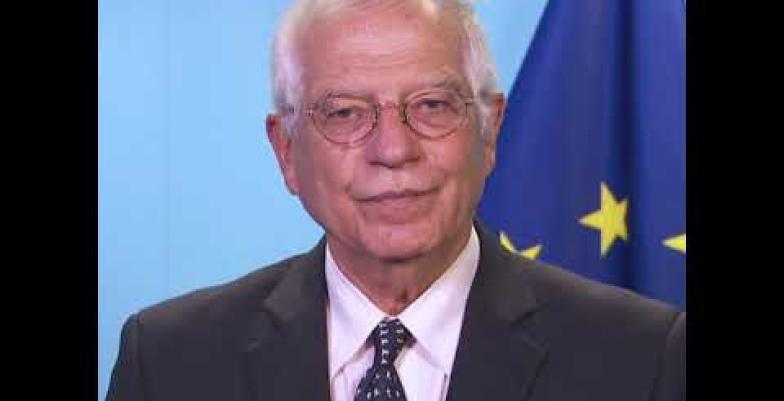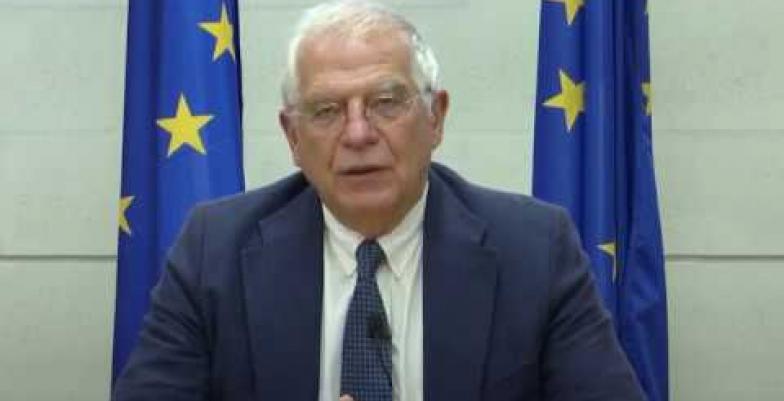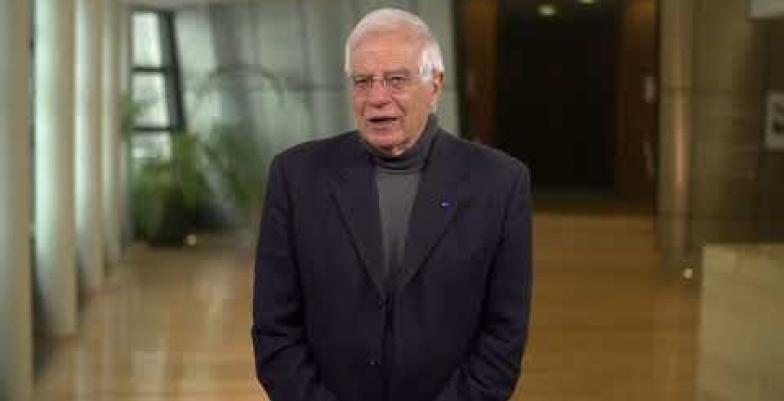 STAYING ON COURSE IN TROUBLED WATERS - EU FOREIGN POLICY IN 2021
The year 2021 was dominated by the COVID-19 pandemic and marked by various geopolitical crises. In this book, which contains a collection of articles, blog posts, opeds and speeches, HR/VP Josep Borrell addresses the main questions facing the EU's foreign and security policy. How can the EU become a more credible global security actor and deal with a more competitive strategic environment? How should the EU act in the face of 'new empires' that try to destabilise our neighbourhood? And in what concrete ways can we reinforce the transatlantic partnership and strengthen our engagement with Africa, the Indo-Pacifc and Latin America? What can the EU do to revitalise multilateralism and help build global rules that are ft for purpose in the 21st century? What policies are needed to tackle climate change and increase the EU's strategic autonomy?
EUROPEAN FOREIGN POLICY IN TIMES OF COVID-19
The book tells the story of the main events of 2020 and how the EU has responded. It traces the main stages of the pandemic and the EU's actions: from the 'battle of narratives' and the work on repatriation, to the development of 'Team Europe' and the deal on the recovery fund.
HR/VP JOSEP BORRELL
A STRONGER EUROPE IN THE WORLD