World Oceans Day 2021: Beyond the beauty of oceans - A dive with sperm whales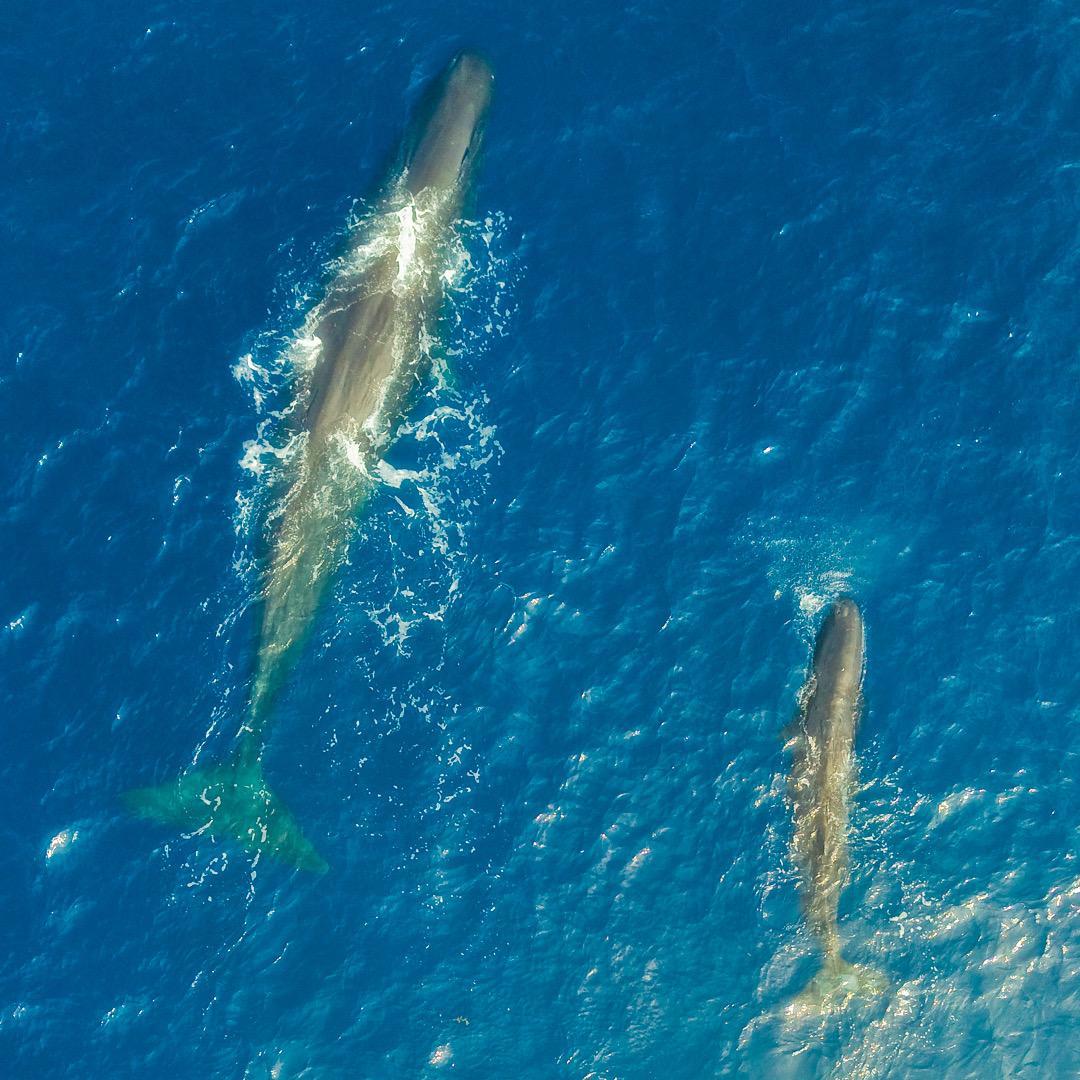 A dive with sperm whales
Sperm whales are the largest toothed whales on Earth. Adult sperm whales' females reach an average size of 11 metres while males can reach an average size of 15-18 metres. The average lifespan of sperm whales is 70 years but it can be longer.
Only a few people know that a group of about 30 sperm whales live permanently off the Western coast of Mauritius. Half of them are adult females, and half are calves and young whales. There are very few countries in the world where sperm whales live permanently; in all other countries where they are found, they migrate according to the seasons.
After a 30-minute dive, visibly struck by this encounter, H.E. Mr Vincent Degert, who is a sea lover and dives regularly, talks about a 'lifetime experience'. "Albert Einstein said : "Look deep into nature, and then you will understand everything better". Looking at this group of sperm whales today, seeing a mother and her baby, gives me a feeling of great humility in front of the incredible beauty of our planet. But with that also comes a great sense of responsibility."
Hugues Vitry, a professional diver, who has been leading for almost ten years, as part of the Marine Megafauna Conservation Organisation (MMCO), the study of the sperm whales population in Mauritius, talks with a spark in his eyes about the animal : " Sperm whales are fabulous, interesting and intelligent marine mammals, they breathe air at the surface and dive to depths of over 1,000 metres holding their breath for over an hour. As they dive in the abyss where it is totally dark (the abyss is a place where no light penetrates), they use echo-location to track their prey. They feed mainly on squid and fish. Echolocation allows them to recreate the image of their environment in their brain, in the same way as the image you can see during an ultrasound on a pregnant woman to visualise the baby in her womb."
Constant monitoring of these long-lived animals is very important for their conservation, in order to take timely measures to mitigate the effects of pressure from anthropogenic activity. The MMCO is actively working with local communities to educate the importance of conserving these beautiful animals, as well as with the Mauritian authorities for the integration of large whales into marine spatial planning.
These beautiful animals face many threats. While the babies are preyed upon by sharks, pilot whales and killer whales, the adults are mainly victims of the consequences of human activities such as ship strikes, entanglements in nets, waterborne plastic pollution and increasing noise pollution. There are also non-lethal threats such as habitat loss due to increased vessel traffic and its generated noise and offshore commercial activities encroaching on their feeding or breeding grounds.
An expedition to mark World Oceans Day
The special expedition described above has been organised with the support of the MMCO and the Ministry of Blue Economy, Marine Resources, Fisheries and Shipping of Mauritius to mark World Oceans Day on 8 June to raise awareness on the role of oceans and the need to protect them. Oceans occupy 70% of the Earth's surface, and hence represent the largest ecosystem; they are home to a large percentage of the planet's biodiversity. They support essential services for people, such as food provision, climate regulation and recreation. They are also crucial for the economy. But they face a number of threats mainly deriving from human activities – the recent shipwreck of a chemical-laden cargo ship off the coast of Sri Lanka and the oil spill caused last year by the shipwreck of the MW Wakashio off the coast of Mauritius remind us that those threats are real. Those threats affect ecosystems and marine life, including species such as sperm whales. There is growing concern that a broad range of marine species are under increased risk of extinction and that marine biodiversity is experiencing potentially irreversible loss due to a number of threats that include overfishing, bycatch, climate change, invasive species and coastal development. The coronavirus pandemic has raised our attention on the human-nature linkage.
Therefore, protecting the marine environment is not only crucial for the conservation of biodiversity but also for the wellbeing of humans and the planet. The European Union is committed to ocean protection in Europe and in the world as reflected by its bold commitments at successive annual global Ocean Conferences. For Mauritius and Seychelles, oceans and seas are essential: while both are referred to as Small Islands Developing States, they have vast Exclusive Economic ones (EEZ). For decades now, the EU and its Member States have been working with Mauritius and Seychelles for the sustainable management and use of oceans as well as for the implementation of sustainable practices on land as these have an impact on the oceans. Initiatives such as the EUBeachCleanup annual campaign, specific measures under the Sustainable Fisheries Partnership Agreements, ocean protection projects but also initiatives aimed at tackling plastic pollution, improving waste management and promoting a green transition are some examples of the EU action in both countries.
The video of this incredible expedition with sperm whales was first screened during a webinar held on 8 June 2021  entitled "Thriving Within Our Ocean Boundaries" to raise awareness on the beauty of marine life and threats marine species such as the great sperm whale face from seaborne as well as land-based activities.
The webinar was organised by the Delegation of the European Union to the Republic of Mauritius and to the Republic of Seychelles in partnership with the Indian Ocean Commission as part of the regional E€OFISH programme.
Special thanks to Hugues Vitry from the Marine Megafauna Conservation Organisation (MMCO), Ravi Mohit and Vikash Munbodhe, divisional officers and scientific divers of the Albion Fisheries Research Centre at the Ministry of Blue Economy Marine Resource Fisheries and Shipping of Mauritius and Kalsey Belle, a young Seychellois ocean activist who took part in the expedition.
Photo : Stéphane Antoine – Frame In Production (EU)