EUBAM Libya's training for Libyan customs officers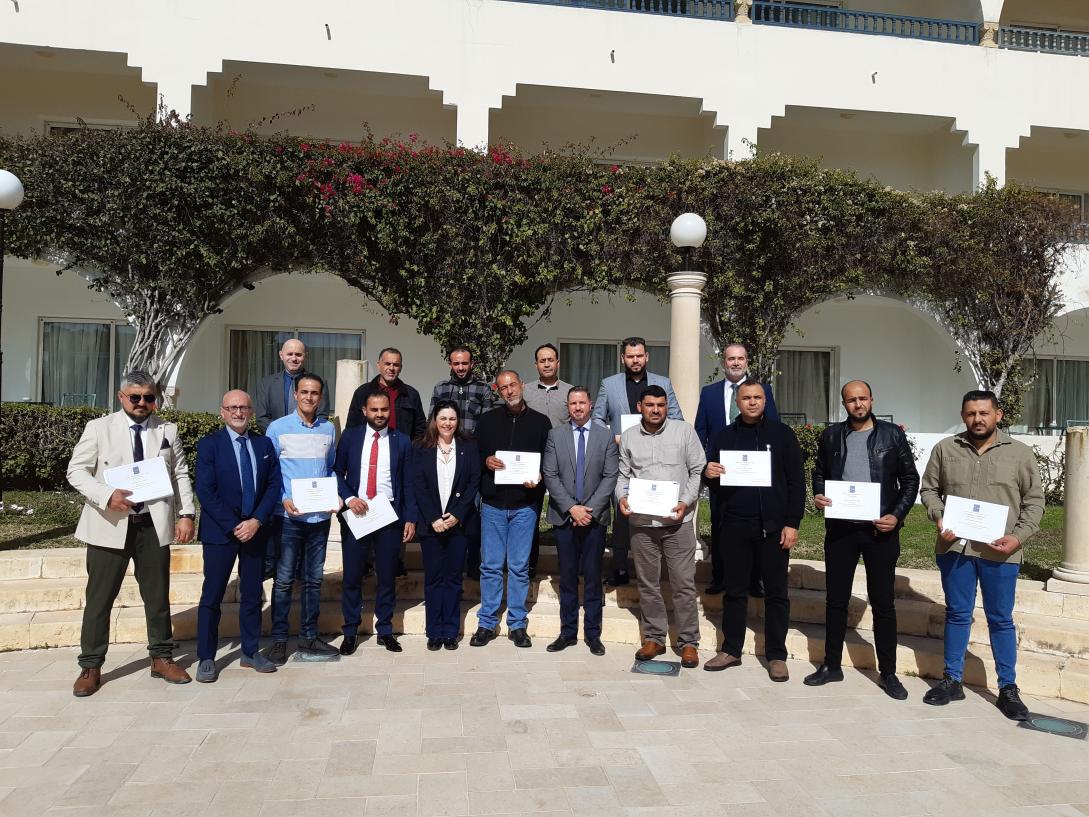 © EUBAM Libya/Sabine Ludwig
Image
Copyright
EUBAM Libya/Sabine Ludwig
All participants passed successfully the training and got their diplomas.
Infringements of Intellectual Property Rights (IPR) is a growing threat at a global level. Besides the need to protect national industries and budgets from the trade of fakes, analysis performed by accredited international agencies in the field (EUIPO, OECD) shed light on the link between counterfeit and international organised crime (including terrorism financing and human trafficking), as well as on the risks for citizens deriving from sub-standards products that jeopardize human health and safety. This is evident when looking at commodities like consumer goods, but even more for pharmaceutical products.
The mentioned analysis also focused Africa as one of the major routes for the trade of fakes, especially pirated medicines. As other countries in the Region, Libya needs to improve its enforcement capacities against counterfeit to fully control import and export of fakes and dangerous products. Therefore, it is necessary to train the Customs in order to enhance their enforcement capacities on IPR.
"We are very committed with capacity building of the customs", says Luis Puig-Saenz, Head of Border Management Unit, and welcomed several Libyan customs to the workshop in Tunis, Tunisia. Therefore, this project has been fully supported and approved by the Director of International Cooperation Office, Libyan Customs Authority (LCA).
"Counterfeiting in particular in the sector of pharmaceutical products is a very serious phenomenon, with consequences on citizens and links to international organized crime. Customs are the first watchers at the border to look at the incoming fakes", adds Senior Customs Adviser and Project Manager Massimo Antonelli.
The overall objective is to strengthen LCA's enforcement capacity. With Massimo Antonelli from the Border Management Unit as the Project Manager, the project focuses a key sector in border management affecting the legality of trades of goods across the border, with a clear impact on safety and security. The objective is achieved through highly specialized training. The mix of information transfer and practical approach through exercises is one of the added values of the training.
Image
Copyright
EUBAM Libya/Sabine Ludwig
International experts as trainers for the Libyan customs officers.
The core training was imparted both through inhouse expertise and external experts from the Italian Customs Agency. A total of 12 trainees participated with operative profile (enforcers), covering the whole country of Libya. Topics of the workshop are facts and figures, criminal aspects, products safety, Libyan and EU enforcement tools, legal and administrative framework, role of customs as well as practical exercises.