EULEX Kosovo: European Union Rule of Law Mission in Kosovo - Civilian Mission
Background
As part of a wider engagement of the EU in relation to Kosovo, the European Union Rule of Law Mission in Kosovo (EULEX) was launched in 2008, following Kosovo's declaration of independence and the transfer of responsibilities in the areas of policing, justice and customs from the United Nations Interim Administration Mission in Kosovo to EULEX. 
EULEX is the largest civilian mission under the European Union's Common Security and Defence Policy (CSDP). It supports the Kosovo authorities in establishing sustainable and independent rule of law institutions. EULEX is a unique mission because until today, it remains the only CSDP civilian mission with limited executive functions, namely EULEX is Kosovo's second security responder after the Kosovo Police. From 2008 to June 2018, EULEX fielded international judges, prosecutors and police officers, who were directly investigating, prosecuting and adjudicating cases in Kosovo's justice system. In June 2018, the Kosovo authorities took over responsibility for investigating, prosecuting and adjudicating cases at all levels. Within its mandate, the Mission undertakes monitoring and advising activities and has limited executive functions. The Mission works within the framework of UN Security Council Resolution 1244.
Mission & goals
EULEX is a rule of law mission, which supports specific rule of law institutions in Kosovo on their path towards increased effectiveness, sustainability, multi-ethnicity and accountability, free from political interference, and in full compliance with international human rights standards and best European practices through monitoring and advising activities and limited executive functions.
The Mission supports police, prosecutorial and judicial authorities with concrete findings and recommendations aiming at improving the justice system. From 15 June 2018 to 14 June 2020, EULEX's justice monitors attended 784 court sessions in 214 criminal and civil cases, including high-profile cases, war crimes cases, gender-based violence cases, hate crimes, corruption cases, and cases previously dealt with by EULEX. During the same period, EULEX's Correctional Unit staff conducted around 600 field visits to various correctional facilities and had hundreds of meetings with Kosovo Correctional Service staff to support its senior management in addressing strategic issues.
EULEX's Formed Police Unit (FPU) is Kosovo's second security responder, as part of a three-layer security responder mechanism where Kosovo Police is the first security responder, EULEX is the second one, and NATO's Kosovo Force, KFOR, is the third security responder. The FPU regularly participates in joint trainings with the Kosovo Police and KFOR to ensure smooth coordination among the three security responders in case of a real-life deployment. It also supports operational crowd and riot control capacities and capabilities of the Kosovo Police Regional Directorate Mitrovica North.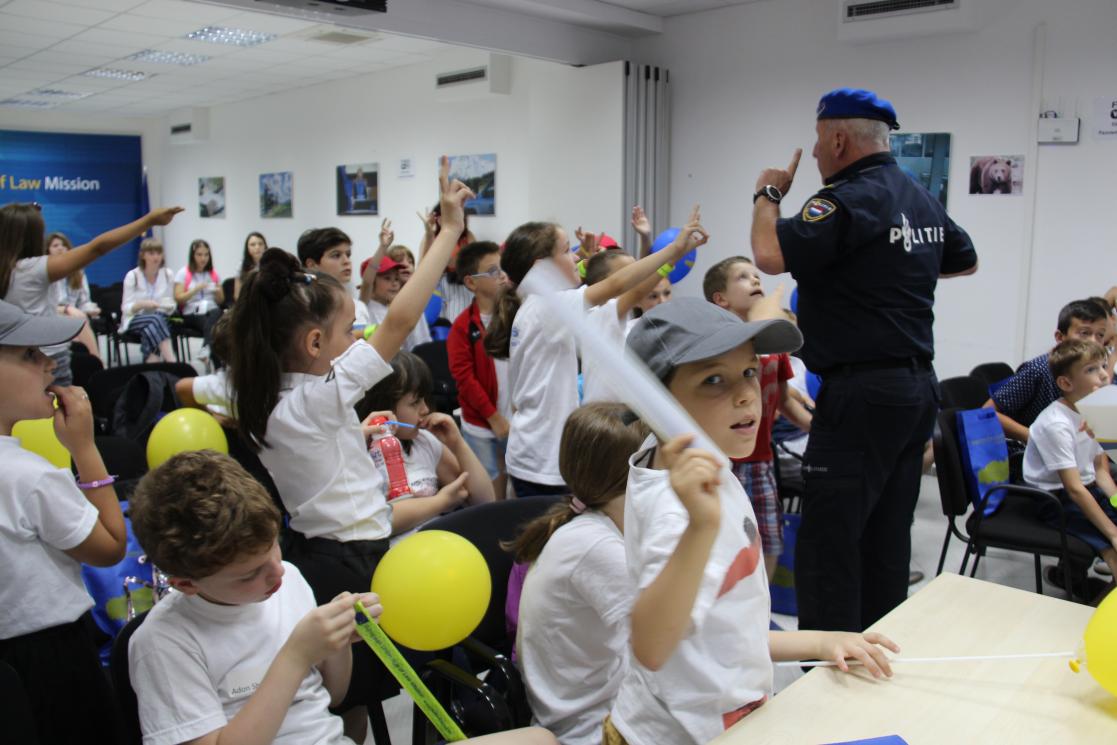 In addition, EULEX supports the Kosovo Police in the field of international police cooperation by facilitating the exchange of information between Kosovo authorities and Interpol (under UNMIK umbrella) and EUROPOL. It also implements the Protocol on Police Cooperation between the Serbian Ministry of Interior and EULEX on behalf of the Kosovo Police.
EULEX experts work together with local counterparts at the Institute of Forensic Medicine to determine the fate of missing persons by offering expertise and advice in the identification of potential clandestine graves and the exhumation and identification of victims from the Kosovo conflict. From the beginning of EULEX's mandate until 14 June 2020, the Mission has conducted 653 field operations to locate missing persons, including 164 exhumations. The remains of 456 individuals have been identified, including 316 missing persons. In addition, EULEX assists the Kosovo authorities to address the issue of around 300 body remains at the Pristina morgue.
EULEX also assists the Specialist Chambers and Specialist Prosecutor's Office with logistical and operational support in line with Kosovo's legislation. It continues to provide technical support to the implementation of existing agreements of the EU-facilitated Dialogue on normalisation of relations between Belgrade and Pristina. EULEX continues to manage its own witness protection programme.
Composition
EULEX's authorized strength is 503 staff members. However, the actual number of local and international staff is approximately 450. The Mission is supported by the EU Member States, the United Kingdom and five contributing States, i.e. Canada, Norway, Switzerland, Turkey and the United States. 
@Follow us
| | |
| --- | --- |
| Mission/operation website: |   |
| Facebook: | |
| Twitter: | |
| LinkedIn: | |
| YouTube: | |