The European Union in Oman celebrates Europe Day
Every year on 9th May, we celebrate the famous Schuman declaration, which marks the beginning of our European integration project.
In his welcoming speech, His Excellency Patrick Simonnet, EU Ambassador to Oman reflected on the principles of Europe Day and said:
"Firstly, I am delighted to be in Muscat again and also very glad to be able to celebrate with our Omani friends Europe Day. It is made all the more special by the fact that this is the very 1st time we are holding this celebration in Oman – another signal of our ever closer partnership.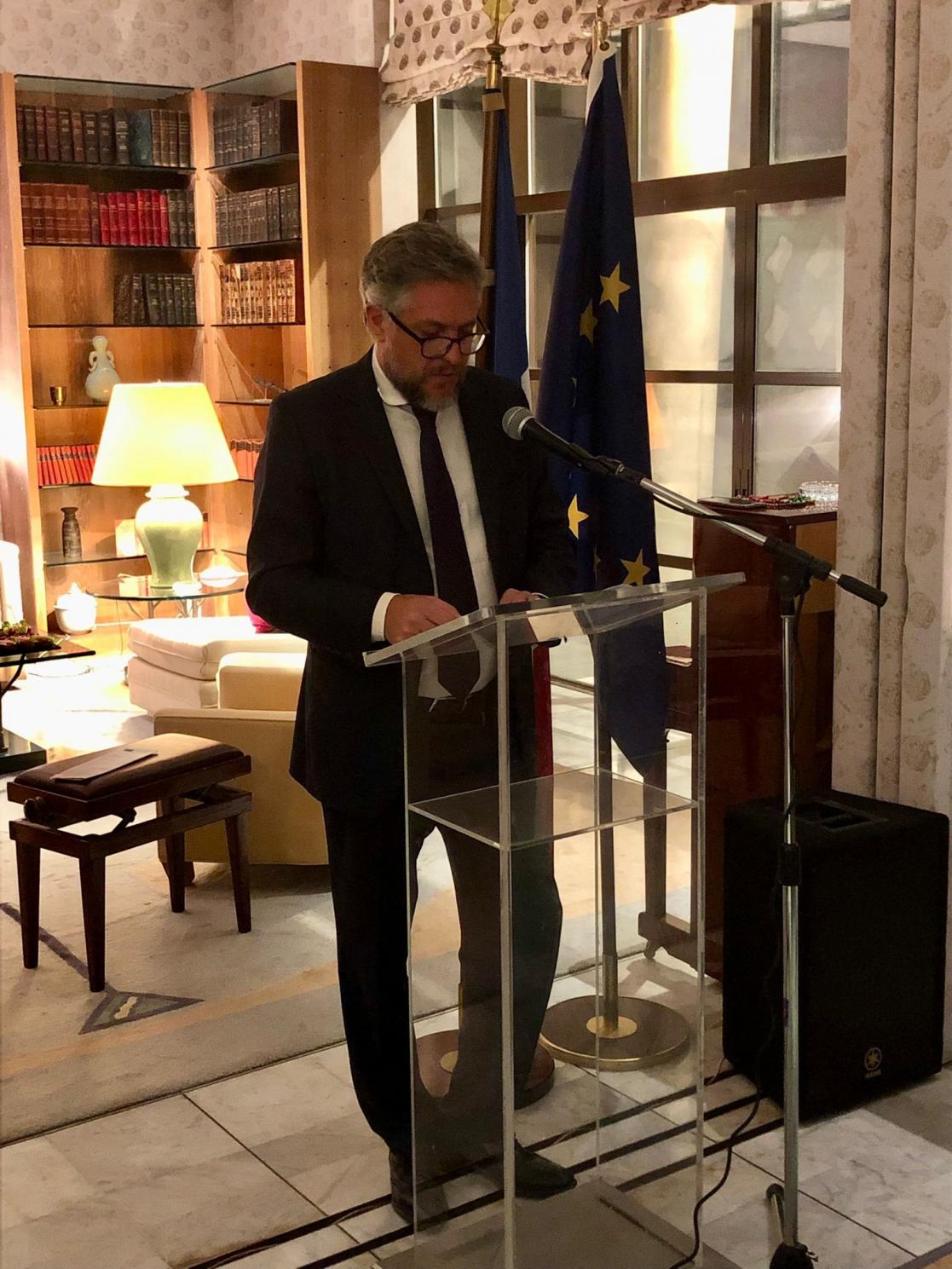 Every year on 9th May, we celebrate the famous Schuman declaration, which marks the beginning of our European integration project. Let us remember 9 May 1950. Five years after World War II ended, six countries, former enemies, agreed on a simple but far-reaching idea: to pool the production of coal and steel – what cannons are made of – in order to make another war materially impossible. Since then, the 6 have become 27 and turned into an ever-closer political and economic bloc. So every year, we celebrate our longest period of peace and stability in Europe's written history as well as our commitment to build a stronger and safer world within and beyond our borders. And we have never stopped being this global and reliable actor for peace, providing more than half of the world's official development assistance and supporting conflict resolution efforts and political processes in the Middle East and beyond, often working hand in hand with our partners in the Gulf.
This year's celebration has a particular significance. It comes after a number of General and Presidential elections in Europe, over the last twelve months, including in France, Germany, Portugal, Malta, Cyprus, Hungary and Slovenia, where European citizens have voted in large majority for pro-European leaders. Those who had predicted the unravelling of (the) Europe(an project) or the victory of nationalists have been proven wrong once again. With this enlightened leadership, we will preserve our European ideal and will make it work even better, in the face of pressing challenges. Chief among those are putting our recovering economies on a more sustainable path and countering the continuing Russian aggression on Ukraine, which has brought war back on European territory. War will never be a solution to anything.
Russia's unprovoked and unjustified military aggression against Ukraine is a flagrant breach of the United Nations Charter. It shakes not only Ukraine but the entire rules-based international order including our European Security Architecture – the OSCE - which was bringing safety to all of us including Russia. In a determined and coordinated response, the European Union will make it as difficult as possible for the Kremlin to pursue its aggressive actions. Threats to the territorial integrity and independence of any State are a threat to us all and we thank all our partners including the Sultanate of Oman fro condemning this aggression. The outcome of the war in Ukraine will eventually determine whether we all will live in a world of rule of law or instead in a world of "rule of the gun".
This war is affecting all of us. Countries that have been struggling to recover from the COVID-19 pandemic now face further challenges to food and nutrition security, energy and commodity prices. We know well who is blocking currently the Ukraine's exports of wheat from its Black Sea ports. The EU is working to address and mitigate the impacts. Bilaterally, we are preparing a joint integrated response plan. Multilaterally we are actively contributing to support the responses of the UN, the International Financial Institutions, the G7 and the G20.
It is a tradition for us to celebrate this special moment with our partners around the globe and I am happy that we are able to celebrate here in Muscat where our footprint as European Union as well as our partnership with Oman is steadily growing. The most visible token of this is our plan to open an EU Delegation in Muscat next year in 2023, enabling us to have more frequent and dynamic engagement. But already now, our bilateral relationship has witnessed significant successes over the last years. These include (i) the Joint Naval Exercises with ATALANTA; (ii) the initialling of an EU-Oman Comprehensive Air Transport Agreement; (iii) the conduct of Diplomatic Training on EU Affairs for GCC, including Omani, diplomats; (iv) our frequent exchanges on issues of common interest such as maritime security or Yemen as well as most recently (v) the launch of the process to reach an agreement on visa exemption, just to name a few. In addition, we have also seen in the last few years, the Foreign Direct Investments to Oman from the European Union tripling.
These elements give us a solid basis on which to build, in order to strengthen the relations between the Sultanate and Europe even further. All of you here today have a role to play in this endeavour and I thank you in advance for your continuous commitment.
Allow me to also pay tribute to a great diplomat Tibor Szatmári – we spent so many hours in Baghdad waiting for the next rocket to fall. Tibor, you will soon end your service as the Ambassador of Hungary to Oman this summer and you will be greatly missed.
Last week, on 18 May, the EU launched "A strategic partnership with the Gulf" – and I insist on this title "A strategic Partnership" – that will take our relationship to the next level. We are launching with this strategy:
i) a higher level of political coordination between our respective authorities,
ii) an enhanced cooperation on our respective economic strategies namely the European Green Deal and the Omani Vision 2040,
iii) a deeper engagement on regional security matters,
iv) better ways to boost our thriving economic and trade relations and
v) most importantly a new vision on shared renewable energies between Europe and the Gulf. I invite you to have a look at it online.
Dear colleagues and friends, I am therefore happy that today we celebrate not only Europe Day but also a new "strategic partnership with the Gulf" that will take us very far.
Dear Omani friends, allow me to conclude by saying: Europe is here to stay and Europe is here to become one of your most valued partners and friends.
Thank you."