THIS CONTENT HAS BEEN ARCHIVED
Fighting Plastic Pollution: A Global Race to the Top - EU in the lead
Main Image
Text
https://twitter.com/EU_MARE/status/1044201031356346375
The recent plastics strategy, presented by the EU aims to reduce plastic litter in land, air and sea. The challenge of marine litter is grabbing headlines and increasingly drawing public attention. Rightfully so, citizens everywhere are concerned and expect action.
https://twitter.com/UNEnvironment/status/1044688667191767040
Last year's successful Our Ocean Conference (OOC), hosted by HRVP Mogherini and Commissioner Vella in Malta, helped build up momentum behind the global call for cleaner and safer seas. Following the global beach clean-up campaign preceding OOC 2017, the European External Action Service together with the European Commission invited EU Delegations and Representations this year to participate in a global #EUBeachCleanup action, on International Coastal Cleanup day, 15 September, which was a success in that over 40 EU Delegations & Representations cleaned up beaches, rivers and lakes around the world and others will continue doing so in the run up to the "Our Ocean Conference 2018" taking place 29-30 October in Bali.
Here are some examples of colleagues participating in #EUBeachCleanup 2018
https://twitter.com/EU_MARE/status/1041658095695474689
https://twitter.com/EUinAlbania/status/1043466172275064835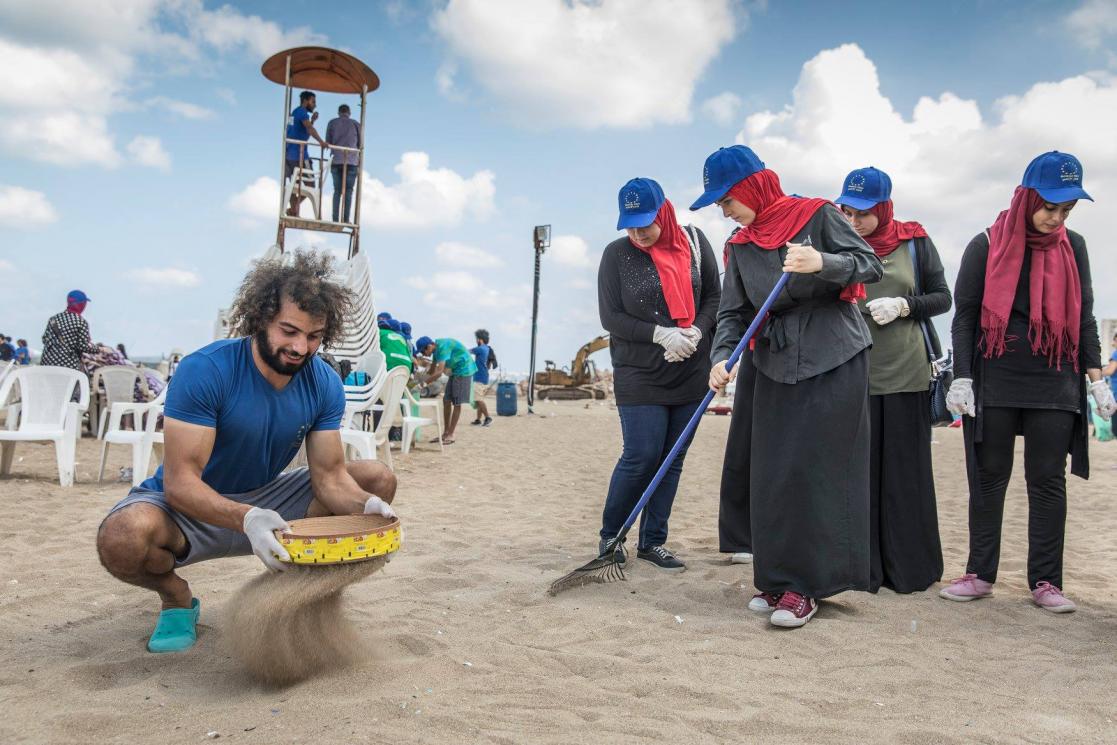 The European Union in Egypt organized a beach clean-up in Alexandria in collaboration with Alexandria Governorate and Greenish. Around 300 volunteers participated in the event, including staff of the European Union Delegation to Egypt, representatives of the EU member states, and members of local NGOs and initiatives concerned with environment.
https://twitter.com/UnionEuropeaRD/status/1043584434635706370
https://twitter.com/EU_in_Sri_Lanka/status/1043002180184096768
https://twitter.com/EU_MARE/status/1040132717382385664
https://twitter.com/UeTunisie/status/1041635972868460544
https://twitter.com/euneighbours/status/1041599944447156224
https://twitter.com/ECRepMalta/status/1040865615555256320
https://twitter.com/EUinCanada/status/1040960058773987328
https://twitter.com/EUintheUS/status/1042472204091514882
Earlier this year, hundreds of EU staff members from Brussels also gathered on the Belgian coast for a mass beach clean-up following the launch of the plastics strategy.
https://twitter.com/EU_Commission/status/977817366535979009
https://twitter.com/eu_eeas/status/1044938235510706176