EU and Government of Georgia launch new 150 M GEL programme supporting vocational education and labour market development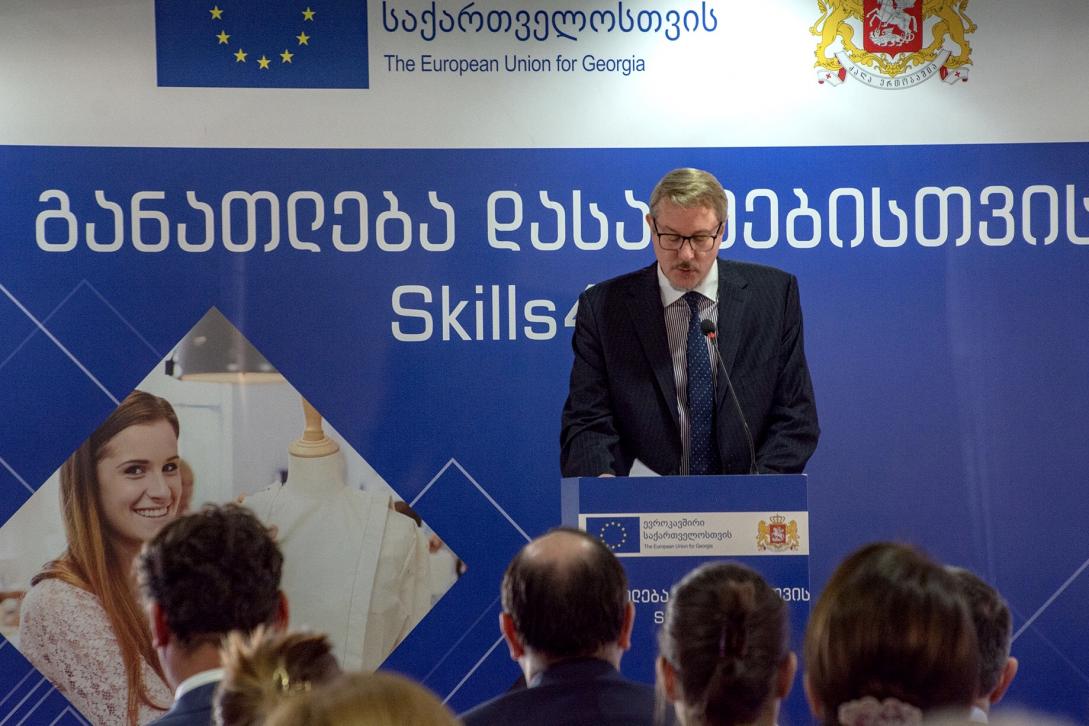 Tuesday, 29 October 2019, Tbilisi: At a special event held at Gldani Vocational Education and Training Centre, Mikheil Batiashvili, the Minister of Education, Science, Culture and Sport, Carl Hartzell, EU Ambassador to Georgia and Cesare Onestini, European Training Foundation (ETF) Directorlaunched the second phase of the Skills4Jobs programme in Georgia. 
The new five year programme has a total budget of EUR 48.85 million (approx. GEL 156 million) will focus on ensuring that relevant skills matching services and education opportunities in vocation education and training and entrepreneurship are available throughout Georgia, including for youth, women and vulnerable populations.  Targets for the programme include: 
• At least 105,000 Georgians find jobs with assistance of these measures;
• An increase of at least 10% in the employment rate of young people aged 15-29 with Vocational Education and Training  education nationwide;
• At least 20% of  jobseekers in the regions who completed retraining programmes are employed within 3 months;
• Development and Publication of National Skills Anticipation Report with a 5-year outlook;
Carl Hartzell, Ambassador of the European Union, remarked, "Employment is a key concern for people everywhere.  One prerequisite is ensuring that job seekers have the skills the market needs, and can find the available jobs.  With the first Skills4Jobs programme the EU assisted the Government to train over 750 teachers and offer over 100 modern, relevant, vocation education courses.  We also helped establish tools like a national labour needs survey, worknetand pilot employment support centres to help make those linkages.  Over 30,000 persons found work through these achievements.  With this new programme we plan to take these successes and make them more accessible in the regions and among youth, women and vulnerable groups. Of course, it takes more than just a programme to make a real impact, there is also a need for strong political will and determination.  We look forward to working closely with the Government over the next years to ensure better and more employment for Georgians."
Cesare Onestini, ETF Director noted that "Skills development is at the heart of the ETF work in Georgia. Young people and citizens throughout the country will benefit from current reforms through better education and training opportunities, providing access to high quality jobs. "
The programme will be implemented through a package of support measures, which include a EUR 30 million (approx. GEL 95 million) sector reform performance contract with the Government which provides direct annual funding in exchange for results, two EU Twinning projects which will bring EU country civil servants to Georgia to help introduce reforms, and private sector technical assistance projects to support Government ministries. In addition, dedicated grants with a value of EUR 7 million (approx. GEL 22 million) will be allocated to private or public sector or civil society organisations to further enhance employment opportunities in the regions.  
The programme builds on the achievements of the first phase of Skills4Jobs programme which ran from 2013-2018 with a total budget of EUR 27 million (approx. GEL 80 million).  In total, an estimated 30,000 jobseekers have found employment through these measures.  The second phase of the programme aims to extend these achievements further into the regions of Georgia.
The programme announcement was followed by a high level panel discussing the challenges and perspectives labour market matching in Georgia, which included interventions by Director Onestini, Ambassador Hartzell, as well as TamilaBarkalaya, Deputy Minister of Internally Displaced Persons from Occupied Territories, Labour, Health and Social Affairs, and representatives of Parliament of Georgia, Giorgi Vashakidze, Deputy Minister of Education, Science, Culture and Sports, Mariam Jashi, Chair of the Committee on Education, Science and Culture of the Parliament, and Tamar Khulordava, Chair of the Committee on European Integration of the Parliament.
About the European Union
The EU member states have built a zone of stability, democracy and sustainable development whilst maintaining cultural diversity, tolerance and individual freedoms.  The relationship between the EU and Georgia is based on these values. As part of this partnership, the EU has granted Georgia access to the European market and visa-free travel, and supports Georgia in the Geneva International Discussions. Beyond this, the EU also provides over 360 million GELannually to Georgia support Georgia's reform agenda and further economic development.
About the European Training Foundation
The European Training Foundation (ETF) is an agency of the European Union helping 29 neighbouring countries to reform their own education and training systems in line with the EU's external relations policies. By supporting human capital development, the ETF contributes to social and economic development and to long-term stability in neighbouring countries. The ETF is based in Turin, Italy, and employs 130 staff.
For further information please contact:
• Tamriko Mikadze, Press and Information Officer, Delegation of the European Union to Georgia tamriko.mikadze@eeas.europa.eu  
• Tamar Kvaratskhelia, EU4Georgia – communication support to the EU Delegation Tamar.Kvaratskhelia@landell-mills.com