UN General Assembly demands Russian Federation withdraw all military forces from the territory of Ukraine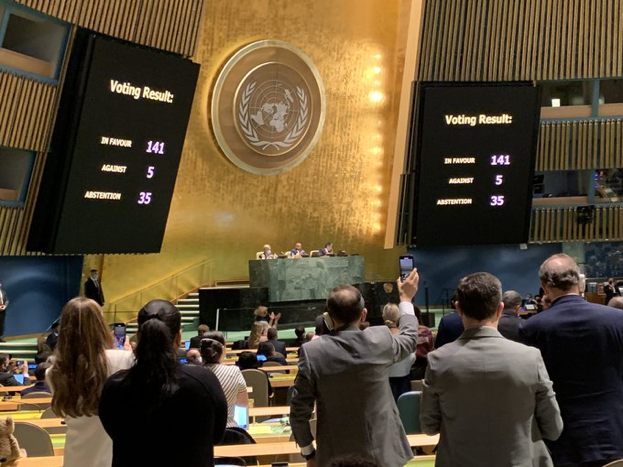 On 2 March, the UN General Assembly adopted — by an overwhelming majority of 141 against 5 — a resolution rejecting the Russian Federation's brutal invasion of Ukraine and demanding that Russia immediately withdraw its forces and abide by international law.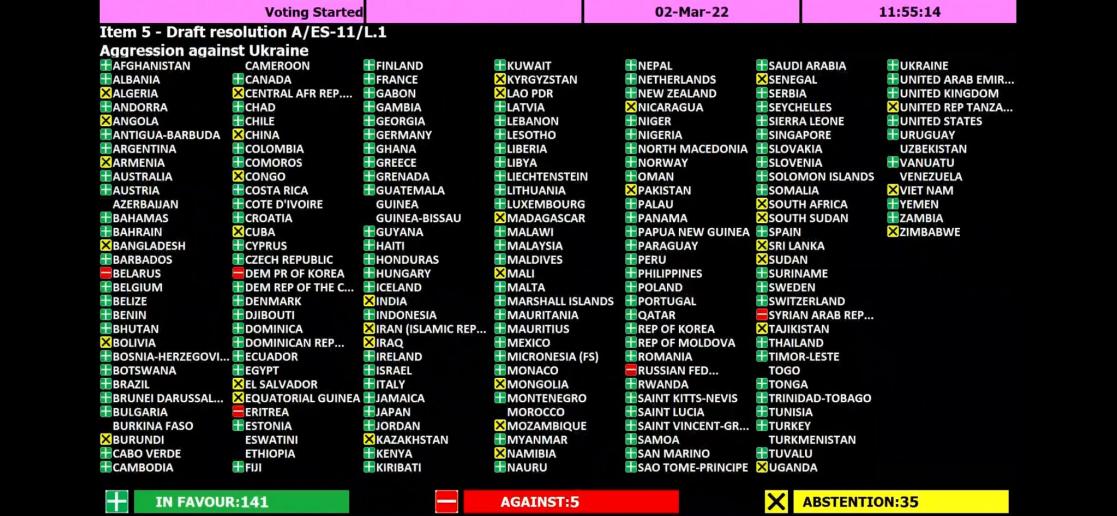 The resolution was prepared by the European Union hand in hand with Ukraine and countries from all regions of the world, immediately after the UN Security Council was prevented to act by a Russian veto on 25 February.
The resolution "deplores in the strongest terms" the aggression by Russia and affirms the international community's commitment to the sovereignty, independence, unity and territorial integrity of Ukraine. It also calls for unimpeded access for humanitarian assistance. The text was approved by 141 countries. Only 5 UN member states voted against it: Russia, Belarus, DPRK (North Korea), Eritrea and Syria. Many of Russia's closest partners did not follow their voting pattern.
https://twitter.com/EUatUN/status/1499066567824486402
Upon the successful adoption of the resolution, EU Ambassador to the UN in New York Olof Skoog stressed the historic nature of this vote:
"The world has spoken. The Russian government must immediately stop the aggression, withdraw its troops, and abide by the rules of the UN Charter that apply to all, equally."
"This is not just about Ukraine, he continued. This is not just about Europe. This is about defending an international order based on rules we all have signed up to, and the sovereign equality of all states, large and small. This is about whether we choose tanks and missiles, or dialogue and diplomacy."
He further noted, "Russia's isolation from the rest of the international community". "By voting overwhelmingly in favour of the resolution, we have chosen to defend peace where Russia has chosen brutal aggression. We have chosen to defend this organisation and its Charter where Russia has violated the fundamentals of both. Russia stands increasingly alone."
Following the General Assembly vote, Ambassador Skoog joined Ambassador of Ukraine Sergiy Kyslytsya, to further underline how "the European Union and the world stand with the Ukrainian people".
https://twitter.com/EUatUN/status/1499082246170583041
https://twitter.com/EUatUN/status/1499138692161720326 
This landmark resolution was adopted during the 11th Emergency Special Session of the General Assembly, which was called by the UN Security Council following the Russian veto on Friday 25 February of a text calling for a Russian withdrawal from Ukrainian territory. Although General Assembly resolutions are not legally binding, their political weight is essential, especially in cases where the UNSC has been unable to act.
See also: Ukraine/Russia: Statement by High Representative Josep Borrell on the adoption of the UN General Assembly's resolution on the aggression against Ukraine