THIS CONTENT HAS BEEN ARCHIVED
SAA for Everyone
Main Image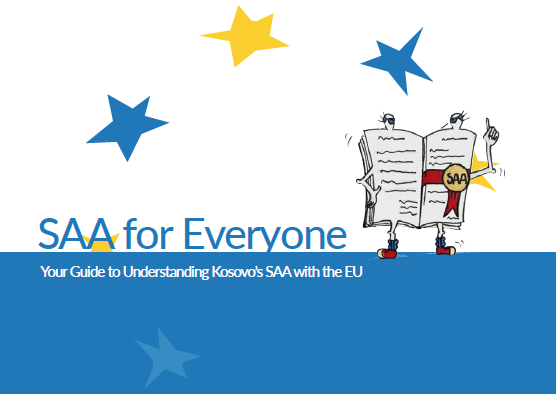 Text
In April 2016, the Stabilisation and Association Agreement (SAA) between the European Union (EU) and Kosovo entered into force. This is our first contractual relationship and an important step for Kosovo along their path to the EU. This is a major achievement for Kosovo.
The Agreement is not just a high level political document by and for institutions and politicians. Through this Agreement, a process for supporting real reform has been agreed upon, which will affect the opportunities and lives of citizens.
As the SAA is gradually implemented, which will require sustained commitment and effort by Kosovo's politicians and public institutions, the changes to the quality of life should follow. For instance, strengthening of judicial systems, improvement in human rights conditions, strengthening of democratic institutions, greater and guaranteed access to European markets, improvements in the quality and standards of products from Kosovo so they are more attractive to consumers across that wide EU market, and support for progress towards a market-oriented economy.
For the relationship to bear full fruit, every citizen in Kosovo can play a role in their own way – as citizens holding politicians accountable for what they agreed to in the SAA, as business persons benefiting from the opportunities offered by the SAA.
We hope that this publication will better explain to you how Kosovo's relationship with the EU will deepen because of the SAA, so you can actively pursue or even just better understand the process by which Kosovo draws closer to the EU.