THIS CONTENT HAS BEEN ARCHIVED
The Gambia: International Conference mobilises €1.45 billion
Main Image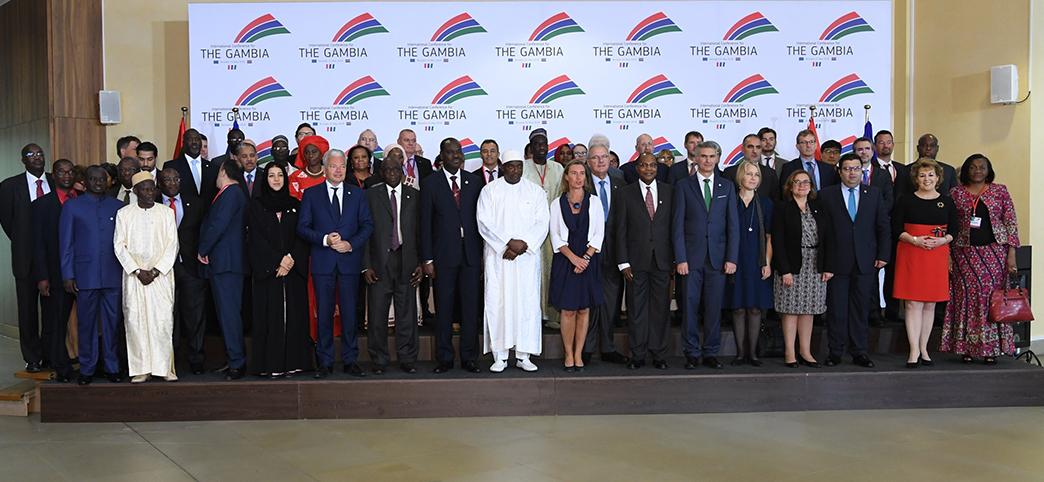 Text
"We all need to send very special thanks to all the people of The Gambia, because it is them giving us hope in very difficult times. They have never given up, even when the situation seemed desperate and when change seemed impossible" said High Representative Mogherini who co-chaired the conference together with the President of The Gambia, Adama Barrow, in Brussels today.
"The Gambia is showing to the world that freedom and democracy are about real people and real lives. After the presidential election in 2016, neighbours and the international community stood with the Gambian people. We stood on the side of freedom and democracy. Two years on, we continue to stand by your side. Today the EU is proud to announce €140 million to invest in opportunities for the Gambian people and further strengthen democracy", she continued.
https://twitter.com/eu_eeas/status/998844285012365312
The ministerial Conference gathered delegations from 43 countries and 10 International organisations and provided an excellent opportunity to the international community to express its political and financial support to The Gambia, which is undergoing a historic democratic transition.
Today's gathering also reconfirmed the important role of joint efforts by domestic, regional and international actors in supporting the country in its journey towards democracy, stability and sustainable development. Together with other international organisations, the EU has stood side by side with The Gambia through political and financial support and remains committed to continuing this support.  Today's announcement that the EU would contribute with additional  €140 million in grants, comes on top of the € 225 million already committed.
The key outcomes of the conference are:
Reinforced political support to The Gambia: A joint communiqué by the co-chairs was issued, reaffirming support and solidarity in assisting the transition from a dictatorship to a fully-fledged democracy.
Increased financial assistance for development: The €1.45 billion pledged will help cover needs identified for donor support to The Gambia's National Development Plan.
The International Conference for The Gambia will be followed by a Business Forum tomorrow, which will bring together interested European, regional and Gambian business representatives for exchanges on sector-specific strategies and projects during panel discussions on Energy & Infrastructure, Agricultural Value Chains, and Tourism.