THIS CONTENT HAS BEEN ARCHIVED
Letter to the editor: EU ambassador on palm oil stance
Text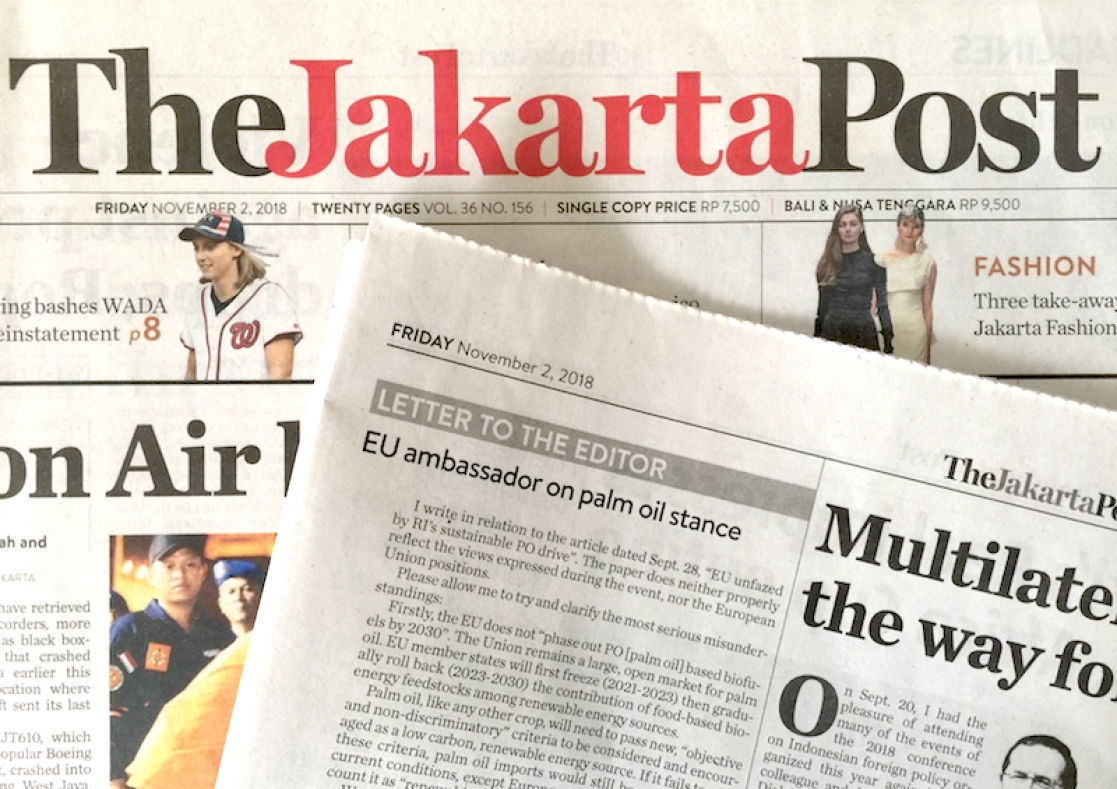 This letter to the editor was published in The Jakarta Post, 1 November 2018. Read HERE
Letter to the editor: EU ambassador on palm oil stance
I write in relation to the article dated 28 September "EU Unfazed by RI's sustainable PO drive" "EU unfazed by RI's sustainable palm oil drive". The paper does neither properly reflect the views expressed during the event, nor EU positions.
Please allow me to try and clarify most serious misunderstandings:
Firstly, the EU does not "phase out PO based biofuels by 2030". The Union remains a large, open market for palm oil. EU Member States will first freeze (2021-2023) then gradually roll back (2023-2030) the contribution of food-based bioenergy feedstocks among renewable sources of energy. Palm oil, like any other crop, will need to pass new, "objective and non-discriminatory" criteria to be considered and encouraged as a low carbon, renewable energy source. If it failed to pass these criteria, palm oil imports would still be possible under current conditions, except European Member States could not count it as "renewable energy" anymore. We work closely with the Government of Indonesia at expert level to assess whether and how ISPO, or other schemes, could help demonstrate compliance for all or part of Indonesian PO. EU and Indonesia have about 4 years to do so, until those criteria are reassessed and come into full effect.
Secondly, current and future efforts of Indonesian Government, local authorities and stakeholders can (and should) yield "results that would compel EU to reconsider". Like other global, responsible buyers and consumers, I fully share Indonesian hopes that the new ISPO and the Moratorium, if properly implemented, amount to more than "mere first steps". These commitments do have the potential to address major socio-environmental issues, and thus to change the perception of palm oil in downstream markets. However, livelihoods, climate and biodiversity do not depend on anybody's commitments; they depend on the results thereof.
This brings me to my last point: the critical importance of transparent, comprehensive data and exhaustive narratives. Palm oil is just one of the drivers of deforestation we should monitor and address, the national forest estate is but one of relevant land categories: what about 7Mha of natural forests and 4Mha of peatlands in Areal Penggunaan Lain? EU is committed to help Indonesia demonstrate higher sustainability, not just of palm oil, big or small, but in every sector that can contribute to sustainable, low carbon rural development. I think of forestry obviously, where FLEGT (Forest Law Enforcement, Governance and Trade) licensing is starting to show positive results on both environment and Indonesian wood products exports. But the same could probably be said of other countries and commodities like soy, rubber, coffee, coco, etc. The association of Indonesian producers, GAPKI, expressed frustration that "demonstrating sustainability" is an ever changing goal-post. They are right: global markets, responsible buyers, customers and investors, as well as catastrophic consequences of rapid climate change and mass extinction of biodiversity on Earth, over a few decades, will demand that we all crank up efforts, again and again. The earlier we start this endeavour, the more transparent we are about it, the easier it gets to collaborate and deliver.
Vincent GuérendEU Ambassador to Indonesia