Women's Day: 'Women Champions: Creating a Path to the Top' event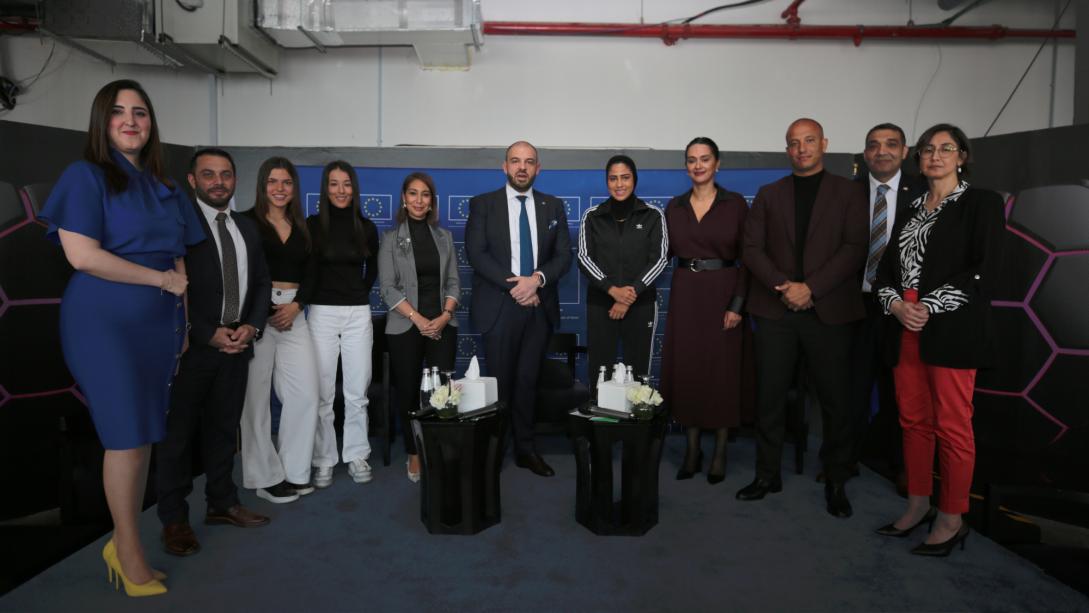 The discussion kicked off with a captivating short film, "Women with a Mission - Sharita". This award-winning film showcased the journey of Sharita van der Hulst, a boxing coach who leads a groundbreaking program to train male inmates at Drakenstein Correctional Center in South Africa. Winner of the coveted Peace and Documentary Prize at the Sportel Awards 2018, the film is a testament to the power of determination and perseverance.
Then four panelists including renowned Qatari athlete Mariam Farid, Belgian female football internationals Inara Bouker and Luna Vanzeir, pioneer Qatari - Palestinian female rally driver Nada Zeidan shared the stories of their triumphs and struggles in reaching the pinnacle of their respective fields. The line-up of the panelists showcased inter-generational, inclusivity, youth, multicultural and societal elements.
During the event, EU Ambassador Cristian Tudor said: "Gender equality and women's empowerment are key priorities for the European Union, and we believe that sports can be a powerful tool in achieving these goals - connecting people, inspiring positive change, and breaking down barriers. We are proud to bring together these remarkable women to share their stories and inspire all young athletes to reach for the top."
Mariam Farid described how she had to break barriers not only in Qatar, starting from the hesitation of her family at the beginning but internationally as well, when she competed abroad as a veiled athlete.
Nada Zeidan explained her struggle to convince her family first and then the wider social circle to accept her choice of sports. She then discussed the challenges she has been facing in order to balance between her career and her family life as a mother.
Inara Bouker and Luna Vanzeir shared their own stories from Europe, where they had to deal with the fact that girls football teams were not always available. Nowadays, as they aspire to become professionals, the massive pay gap between men and women footballers creates discrimination and a result disappointments.
The EU Delegation was also represented in the panel discussion "Advancing Women in Sport – Globally, Regionally and Locally" of the 4th World Association Sports Management Conference, with the participation of Ingrid Vanherle, an athlete herself who after being a CEO of the women's football league of Belgium and Netherlands, she has become the Director General for Women's Football, Futsal, External Affairs and Esports of Standard de Liege. At the panel, Ingrid pointed that we need to move the discussion from "women in sport" into "athletes in the game". While she acknowledged that state support is essential, change starts at home. Families have a role in reshaping the discussion. The EU Ambassador, Dr. Cristian Tudor, also delivered opening remarks on the first day of the Conference.
About the EU Delegation in Qatar
The Delegation of the European Union (EU) to the State of Qatar is a fully-fledged diplomatic mission established in 2022. Its primary responsibility is to manage the EU's political and economic relations with Qatar, including areas of cooperation such as trade and investment, energy, research and innovation, security and counter-terrorism, culture and education, and development cooperation.
One of the Delegation's main functions is to promote EU interests and values by raising awareness of the EU and its policies among the general public, as well as among government and private entities in Qatar. It aims to strengthen people-to-people relations and build bridges between European and Qatari societies and citizens. The Delegation provides information on EU policies and cooperation programmes that may be of interest to Qatar. Additionally, it serves as the EU's main point of contact for government agencies, media, businesses, civil society, and academic circles in Qatar.
Women Champions: Creating a Path to the Top