The EU and Africa: Our meeting of the European Commission and the African Union Commission in Addis Ababa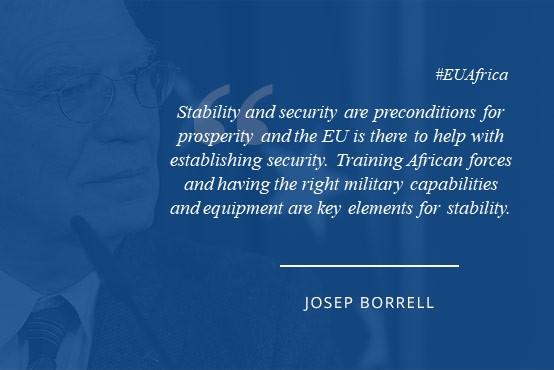 Europe looks at Africa with news eyes. We want to frame a new, integrated strategy with Africa, our sister continent and do it together. We want to think big and the time has come to use our cooperation in a variety of key policy areas – from trade, innovation, climate change, cyberspace, security, investment, and migration – to give substance to our rhetoric. Africa will be a priority for our work in 2020, with some key meetings already planned, starting from this week's annual meeting between the European Commission and the African Union Commission, followed by the EU-AU meeting of foreign ministers in Kigali later this year and finally the EU-Africa Summit in October this year.   
 All of this serves the aim to develop a joint strategy involving Africans and Europeans to tackle the emerging threats that both continents are facing and further seize the opportunities that our common future holds. Next week, the EU will present its ideas for this new strategy, based on a clear understanding of our political, economic and security interests. But this will be just the first step. The common objective is to arrive at a shared strategy with our Africa partners in the autumn.
 Yesterday's Commission-to-Commission meeting was an important milestone in this process. I was truly impressed by the level of engagement that dominated the meeting. There was a strong sense of shared interests and values and one could sense the opportunity and willingness to build an even stronger partnership.
 The overall basis of our partnership is simple and threefold: 
What happens in Africa affects Europe, and vice versa. Times when instability and insecurity in Africa were confined to Africa and were of no interest for Europe are totally over. So, ensuring lasting peace and security in Africa is a shared interest. 
African problems need African solutions. African states, supported by regional and continental organisations, should be the main actors of their own stability and security.
We need to adapt. We – in Europe as well as in Africa – are faced with a changing nature of threats. We therefore need to adapt our working methods. 
 I had the pleasure to chair a session on peace, security, governance and resilience with the AU Commissioner for Peace and Security Smail Chergui and my fellow Commissioners Ms Jourová (Values and Transparency), Mr Reynders (Justice), Ms Urpilainen (International partnership) and Mr Lenarcic (Crisis Management).
 There was agreement around the table that to build sustainable growth and advantages for both sides, we need peace and stability. In our session we agreed on these foundations and discussed how we can adapt our instruments and working methods to the new challenges we face in peace and security. 
What Moussa Faki, the Chairperson of the African Union Commission, said in his closing remarks in this regard stands out. He said that to fight the "violence and the guns of terrorists that continuously kill civilians and sabotage positive developments, we also need guns and arms". Stability and security are preconditions for prosperity and the EU is there to help with establishing security. Training African forces and having the right military capabilities and equipment are key elements for stability. It is not enough to be concerned and to condemn. The African Union and the EU have to be ready to act and engage. And do so robustly when needed.
Currently, the EU already deploys 10 Common Security and Defence Policy missions in Africa. These missions provide advice and training to more than 30 000 African military, police and judicial personnel. The EU has mobilised over €3.5 billion Euro since 2004 for peacekeeping operations through the Africa Peace Facility. We are strengthening our engagement, not only on security, also on development, humanitarian, political. And we are ready to go even further in the future.
 Operationally we discussed how to tackle the enormous challenges and instability we face in Libya, the Sahel, Somalia. We also had had a good exchange on what we can do together on digitalisation, fake news and cybercrime. 
 I will continue my visit in Ethiopia and travel to Sudan thereafter. Our support of the democratic transitions in Ethiopia and Sudan and the articulation of a new security order for the region is clear evidence of how we as EU can deliver concrete action and substantiate our ambitious rhetoric.
MORE FROM THE BLOG
HR/VP box

"A Window on the World" – by HR/VP Josep Borrell
Blog by Josep Borrell on his activities and European foreign policy. You can also find here interviews, op-eds, selected speeches and videos.