EU and the Asia-Pacific Region: Time to run together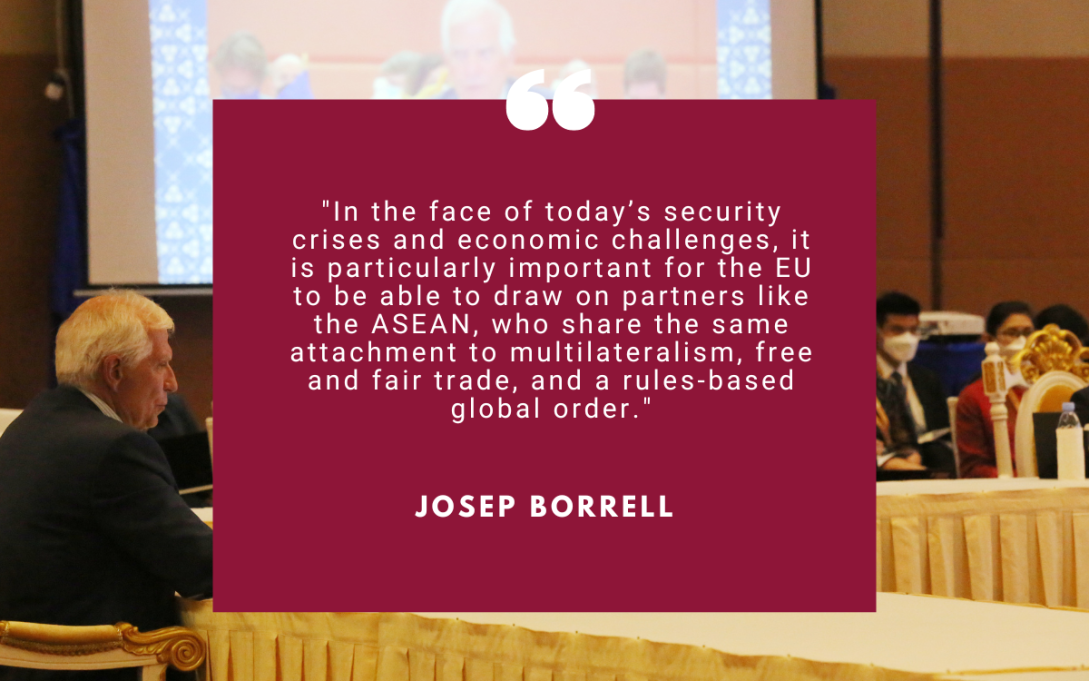 My visit took place at a moment of fast rising tensions with a major escalatory potential between the US and China over Taiwan; the deepening international impact of Russia's war against Ukraine; and the brutal deterioration of the situation in Myanmar.  
I have stressed several times during my mandate that the history of the 21st century will be written to a great extent in Asia and that we must be much more engaged with this region. If the EU wants to be a geopolitical actor, we also have to be perceived as a political and security actor in the Asia-Pacific region, not just as a development cooperation, trading or investment partner.
The Asia-Pacific region creates 60% of global GDP and two-thirds of global growth.
To start with, let me remind some basic figures. The Asia-Pacific region creates 60% of global GDP and two-thirds of global growth. It is the second largest destination for EU exports and home to four out of the top ten EU trading partners. Around 40% of the EU's foreign trade passes through the South China Sea. The EU is also the top investor and development assistance provider for the Asia-Pacific. Beyond economic factors, demographic and geopolitical developments do also make the region the world's gravity centre. Asian security has a direct impact on European security and prosperity.
Deepening EU-ASEAN relations
In all meetings, I formulated the EU's intention of engaging much more and of deepening EU-ASEAN relations. Our discussions proved that there is clear demand in the region for more EU presence: on the post-pandemic recovery, on connectivity, on the green transition, and on security. The bilateral meetings held during my visit, were again a confirmation that we can no longer afford running behind the curve in our engagement with the region.
As underlined in my meeting with ASEAN Secretary-General Dato Lim Jock Hoi, ASEAN and the European Union share strong common aspirations. We cannot forget that both organisations were founded to prevent conflict by bringing economies together and ensuring stability.
It is particularly important to be able to draw on partners who share the same attachment to multilateralism, free and fair trade, and a rules-based global order.
It is in this spirit that we adopted during my visit the EU-ASEAN Plan of Action 2023-2027.  We plan also to sign a far-reaching Comprehensive Air Transport Agreement (CATA) with ASEAN partners later this year. These are not only concrete expressions of our Strategic Partnership on a wide range of cooperation areas, including pandemic recovery, trade, rules-based and sustainable connectivity, climate change, research, and security. In the face of today's security crises and economic challenges, it is also particularly important to be able to draw on partners who share the same attachment to multilateralism, free and fair trade, and a rules-based global order.
Geopolitical and regional security issues
The rules-based international order is currently at stake as never before and we see multiple and grave threats to peace and stability in our regions. During my intervention at the Regional Forum, I presented the EU's view on these threats, starting with the Russian invasion of Ukraine. While this war has been condemned by 141 members of the UN, I realised again during our meetings in Cambodia that views differ on how to move forward and on the consequences of the war. Notably the US, EU, and Singapore had a hard job to do in fighting the Russian narrative that it was the EU/US sanctions which made food insecurity and led to inflation and poverty to the detriment of developing countries. Without defending the Russian explanations as to the causes of the conflict, most countries in ASEAN tended to explicitly follow or implicitly sympathise with the Russian narrative. This battle is far from won for the West and requires significantly stepped-up communication efforts, adapted to local languages and social media.
In his intervention during our meeting, Russian Foreign Minister Lavrov focused on this wrong narrative, but then again, he left right after delivering his speech. He therefore did not listen to other ministers who explained, like I did, that the purchase, the transport, the payment, and the import of Russian agricultural products are specifically exempted from the sanctions. Furthermore, the fact that we are phasing out Russian energy imports does not mean that we are asking everyone else to do the same. The responsibility lies with Russia's war actions. More than 20 million tons of grain have been prevented until recent days to leave the ports of Ukraine. That is a fact.
The rules-based international order is currently at stake as never before and we see multiple and grave threats to peace and stability in our regions.
Another geopolitical tension that I raised was the situation in the South China Sea, considering the increased militarisation and destabilising actions, which threaten freedom of navigation and overflight, while affecting stability and security. The EU actively supports the ASEAN-led process towards an effective, substantive and legally binding Code of Conduct for this maritime area, respectful of the interests of third parties.
As the Taiwan Strait crisis went in crescendo during my stay in Phnom Penh, it was impossible not to mention it in my speech. For the EU, it is clear: we want to preserve peace and the status quo in the Taiwan Strait.  The firing of ballistic missiles overflying Taiwan, several of which landed in Japan's Exclusive Economic Zone, was a worrying development that could lead to further destabilisation and risk escalation. That is why the EU called with the G7 on all parties to remain calm, to exercise restraint, to act with transparency and to maintain open lines of communication to prevent any miscalculations that could lead to tragic consequences. This said, the sudden escalation of tensions across the Taiwan Strait has become a divisive issue among ASEAN countries, confronting its members with what they most strongly want to avoid: having to make a binary choice between the US and China. ASEAN appeals strongly to both partners to calm down and to de-escalate. This conflict has a major divisive and disruptive potential for ASEAN and the world economy.
In addition, the worsening situation in Myanmar was high on the agenda during my two days in Phnom Penh. The execution of four pro-democracy activists was a shocking signal to the world of the junta's disregard for the lives and rights of Myanmar's citizens and their desire for freedom. We are concerned by the lack of progress in the implementation of the ASEAN Five-Point Consensus and stand ready to support ASEAN in its renewed efforts towards a peaceful and inclusive political solution. The priorities must be to set an end to the violence, to resume a political settlement process, and to improve the delivery of humanitarian assistance.
Towards the EU-ASEAN Commemorative Summit in Brussels
This trip to Cambodia has further convinced me that (1) ASEAN is an important organisation helping to preserve peace and security and that (2) the EU should be a reliable partner in this endeavour. The last days have demonstrated so, and I am now looking forward to implementing our plans, to further deepening our ties, and to hosting ASEAN Leaders in Brussels in December to commemorate 45 years of EU-ASEAN relations. Despite the "unfriendly" timing in August, the PMC/ARF meetings have become my "must do" Asia-Pacific appointment of the year, so we will see each other next year in Jakarta.
Finally, I want to say a word about Cambodia and the bilateral elements of my visit. I commended Cambodia for its role as ASEAN Chair in a very complex international and regional context, and in my meetings with Prime Minister Hun Sen and Foreign Minister Prak Sonhonn, I strongly supported Cambodia's efforts in addressing the crisis in Myanmar and the Cambodian Foreign Minister's role as ASEAN Special Envoy for Myanmar. Regarding our bilateral relations, it is crucial to deepen our cooperation and keep our dialogue open on issues of common interest, including difficult ones such as human rights and the protection of fundamental freedoms, which are an integral element of our bilateral relationship.
Apart from current affairs, I had the opportunity to briefly visit the treasures of the ancient Khmer Empire in Cambodia's Angkor Wat Archeological Park. An astonishing monument of human history and development, which is so impressive and truly breath-taking. In Phnom Penh I was confronted by a much tragic and sombre memory of Cambodia's recent past. I visited the Tuol Sleng Genocide Museum, a high school building converted into the S-21 prison by the Khmer Rouge, where over 12,000 people were tortured and killed. During the four years of the brutal Pol Pot regime, over two million men, women and children died by execution, hunger and overwork. The memory of these atrocities should be preserved to prevent future genocides. The younger generations need to understand the importance of their contribution to continue to build peace and protect rights.  
MORE FROM THE BLOG
HR/VP box

"A Window on the World" – by HR/VP Josep Borrell
Blog by Josep Borrell on his activities and European foreign policy. You can also find here interviews, op-eds, selected speeches and videos.