EU and Latin America and the Caribbean open their virtual marketplace on pharmaceuticals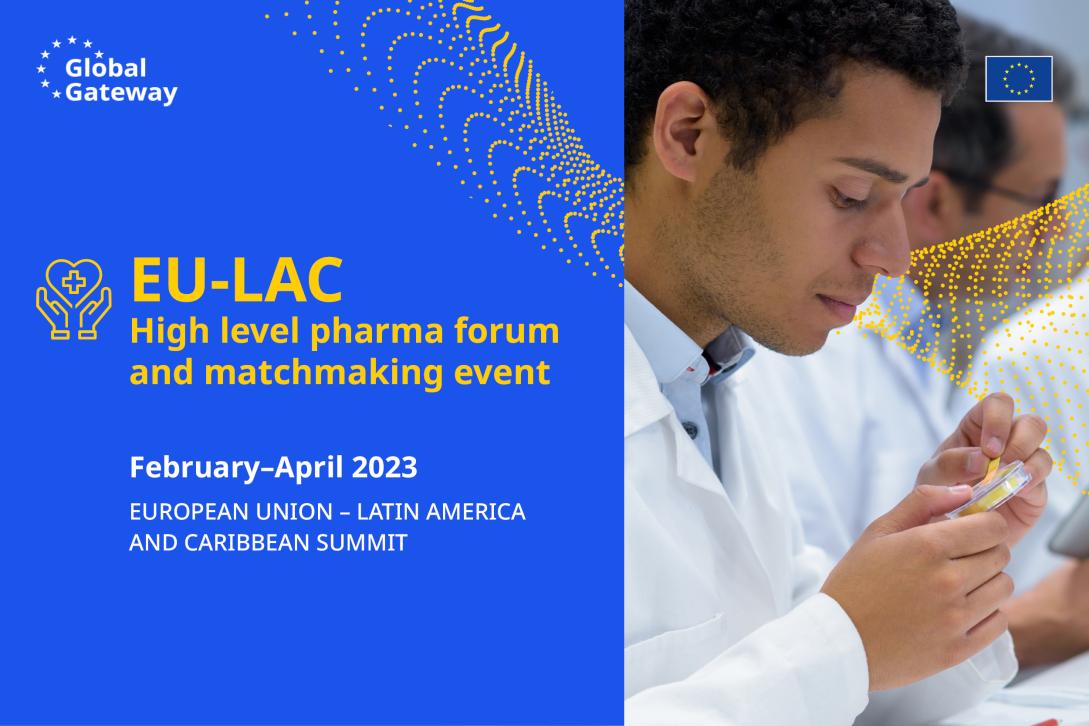 A marketplace and matchmaking event is being organised from February to April as part of the partnership between the EU and Latin America and the Caribbean on health resilience and vaccine production. The event will facilitate collaboration between pharmaceutical industries from both regions. It is part of the CELAC-EU Bi-Regional Roadmap 2022 – 2023.
Background
The EU–LAC partnership on health resilience and vaccine production was proposed by the President of the European Commission in June 2022. This partnership will support ongoing regional efforts in Latin America and the Caribbean to strengthen capacities to produce and distribute vaccines and medicines in the region.
Diversification of global pharmaceutical production is essential for global health security and the EU is keen to create ecosystems conducive to equitable access to quality health products. The matchmaking event is part of the European Commission's engagement with the private sector as a driver for change and innovation.
There is huge potential for collaboration between Latin American, Caribbean, and European companies and key organisations in the healthcare industries. An operational roadmap has been devised containing several areas for engagement:
private sector engagement to strengthen the region's vaccine manufacturing capacity
improved regional supply chains, trade integration and business environment
regulatory strengthening
demand consolidation and pooled procurement
scientific cooperation
pandemic preparedness and health security
The virtual marketplace was launched on 2 February and will run until the last week of March 2023. It consists of an online platform where interested parties will be able to register and create a profile in order to identify potential partners and send requests for meetings to their counterparts. The meetings will be held online through confidential business-to-business (B2B) matchmaking sessions. The matchmaking platform was kicked off with a webinar with participants from from 17 EU/LAC countries including seven EU Member States (Belgium, France, Spain, the Netherlands, Germany, Croatia, Portugal), 10 LAC countries (Mexico, Uruguay, Peru, Colombia, Brazil, Nicaragua, Jamaica, Dominican Republic, Argentina, Chile) plus the US, Canada, UK and Switzerland.
This EU-LAC pharma matching initiative will conclude with a high-level forum to be held in Brussels on 21 March with the theme "Sharing pharmaceutical innovations between the European Union and Latin America and the Caribbean". Here, political leaders and experts from both regions will gather to discuss the current challenges and opportunities for the pharmaceutical sector. The aim is to identify synergies that will meet the public health needs of Latin America and the Caribbean and EU markets.
Register now
If you are active in the pharma sector (medicines manufacturer - chemicals, biologicals, generics and biosimilars) a contract manufacturing organisation, supplier of raw material and manufacturing facilitator, trade association, financial institution from the EU and/or LAC region, you should register on the EU – LAC BUSINESS MARKETPLACE & MATCHMAKING EVENT platform. The deadline to register is 24 February. Follow the link to Register Now.
See also
Follow the link to view a recorded webinar with detailed explanation about how to participate: EU-LAC marketplace on pharmaceuticals – Launching webinar