Rwanda: Kwibuka and lessons learnt from a tragedy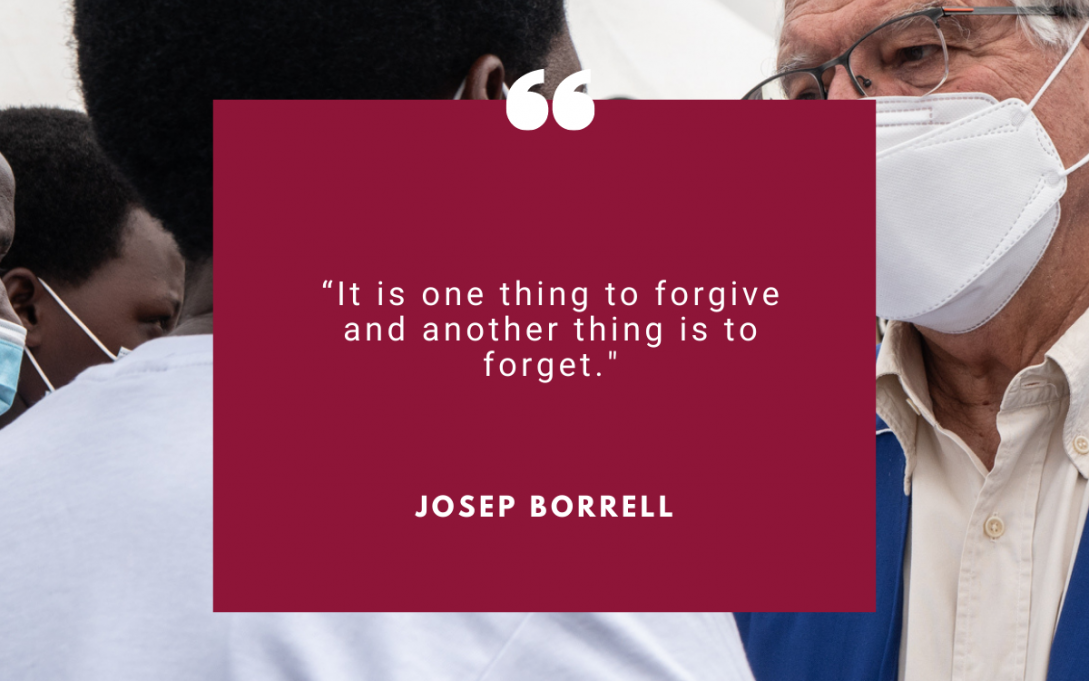 Rwanda is a small, landlocked country in the Great Rift Valley, where the African Great Lakes region and East Africa converge. It is one of the most densely populated countries in the world. 27 years ago, it experienced one of the greatest horrors of the last century: in 1994, around one million people were killed in less than 100 days. One in eight inhabitants of the country was assassinated in the genocide against the Tutsi, with the international community unwilling but not unable to protect them.
Prison sentences of some of the perpetrators of the genocide are ending now, which means that around 30.000 of them are being released. Imagine the impact this can have on any society in the world. Imagine the impact it can have on Rwanda and its people. One can only applaud the Rwandese reconciliation efforts to allow for a peaceful coexistence and to avoid that societal wounds be reopened. 
"Prison sentences of some of the perpetrators of the genocide are ending now, which means that around 30.000 of them are being released."
During my stay in Rwanda, I went to the Bugesera district, around 45 km from Kigali. I visited a project funded by the EU that aims at the healing of trauma, at reconciliation and the integration of prisoners, to prevent that the trauma is passed on to future generations and the risk of a resurgence of conflict. This "Interpeace" pilot project focuses on the Bugesera district, which was amongst the worst affected by atrocities in 1994. The lessons learnt from this project will be disseminated at national level and could be replicated in other countries. 
I attended a ceremony, during which a woman shared how she was raped and her children were taken from her and disappeared. She desperately searched for them, for weeks and weeks. Then, one day, while eating in the kitchen of her neighbours, she was told that she was seated at a table beneath which her children were buried, after they had been brutally killed by a militia group. The woman, called Monica, told us how she suffered, how she despaired, and how she tried to get her life back, while the loss of her children haunted her every day. Her testimony was powerful and vivid, as if we were talking about something that happened yesterday - and not 27 years ago. At the end of her testimony, she told us that the person responsible for raping her and killing her four children, was found and put on trial. He has now been released from jail. They are neighbours again and she has decided to forgive him. Monica looked at us and said that this man was in the audience and she offered him to also present his testimony. This he did, expressing his regrets and trying to explain how he had become part of a murderous mob, killing dozens of people.
There is nothing but silence and sadness that can follow such testimonies. Looking at the victim and the killer, standing together, was an unforgettable and indescribable moment. I cannot stop thinking about how such things are possible – both the unbelievable cruelties that happened, as well as the reconciliation that is taking place. How can human beings be strong enough to forgive the ones who have hurt them so much and in such an unspeakable way? How has this country and its people managed to reach a situation where the worst of humanity can now give space to the best of humanity? 
"How can human beings be strong enough to forgive the ones who have hurt them so much and in such an unspeakable way?"
After the testimonies, the organisers of the ceremony invited me to addres the audience, which I was not aware of before or had prepared for. Speaking spontaneously and from the heart, I also shared my own experience. Coming from Spain, which suffered an awful civil war many years ago, many people still look at the other, blaming each other for what happened. But one cannot build a future by blaming each other for what happened in the past, and this is what the Rwandese know in their remarkable reconciliation efforts.
And how do they do this? The answer is Kwibuka, as they say in Kinyarwandese, "remember", and the theme of the national commemoration is "remember, unite and renew".
Remember
It already demands a lot of courage to talk to the ones who killed your children and forgive them. But it is one thing to forgive; and another to forget. You have to remember what happened, because people who do not keep the memory are condemned to repeat the same mistakes. As Europeans, I told my interlocutors, we do not have lessons to give to anyone. We have been killing each other for centuries, because of religions, race, nationalism and ideologies. But we also decided to stop fighting and create a unity based on reconciliation. Reconciliation is also based on memory. We want to build a better future together because we remember how awful our past was. 
The Kigali Genocide Memorial, wich i visited, serves that objective. It is the final resting place for more than 250.000 victims. Even today new bodies are being found and buried in this place. The memorial serves to inform and educate about how the genocide took shape. And while what happens remains beyond comprehension, the memorial helps the survivors to heal.
The hundreds of thousands of dead were obviously not the only outcome of the genocide as the Memorial reminds us. Tens of thousands of people who survived had been tortured, raped and mutilated; tens of thousands suffered machete cuts, bullet wounds, infections and starvation. There were more than 300.000 orphans and over 85.000 children who became heads of their households, as all the elders in their families were killed. There were tens of thousands of widows. Many women had been the victims of rape and sexual abuse, or had seen their own children be murdered. A UNICEF survey estimates that 80% of Rwandan children at that time experienced a death in the family and 70% witnessed with their own eyes how someone was killed or injured. It goes without saying that today many in Rwanda continue to suffer from the traumatic effects of the genocide. 
"The international community is also guilty for not helping."
In remembering the catastrophe, we also have to look to the failure of the international community. The Memorial documents well how the force commander Dallaire of the United Nations Assistance Mission for Rwanda (UNAMIR) warned early on what was about to happen. However, due to the limitations of the mission's mandate and the lack of support to expand it, UNAMIR was reduced to a bystander role and did not prevent the genocide. The international community is also guilty for not helping, and during my address, I asked the Rwandese to forgive us also. 
Unite
No one can build a future by blaming each other for what happened in the past. As difficult as this must be, one needs to forgive and move forward again. Based on reconciliation and forgiving, Rwanda has undergone a remarkable post-genocide trajectory in many ways.
Renew
During my visit in Rwanda, I have been the privileged witness of an extraordinary lesson of humanity. I bring back home many feelings and strong impressions. Peace building starts with your neighbours, with the very ones with whom you share a common history of cruelty and pain. Nevertheless, it is with them that you have to build your future.
The remarkable results Rwanda has achieved in recent years is a powerful testimony of such a renewal. Kwibuka, as they say in the beautiful "country of a thousand hills".
Let me conclude this blog post by mentioning how Rwanda, more than 25 years after the genocide, is not only successful in its reconciliation process, but that it also enjoys a positive economic development and good progress in the areas of health and education and in poverty reduction. When you walk on the streets of Kigali, which is a beautiful and positively developing city, you feel the engagement of the Rwandese to continue to build a better future. To paraphrase President Kagame: no matter how much money, no matter how many troops you engage, there is not going to be a solution without the strong ownership of the people on building a good governance. And this ownership you feel across the country.
https://twitter.com/eu_eeas/status/1454403697811894273
https://twitter.com/JosepBorrellF/status/1452694505380057098
MORE FROM THE BLOG
HR/VP box

"A Window on the World" – by HR/VP Josep Borrell
Blog by Josep Borrell on his activities and European foreign policy. You can also find here interviews, op-eds, selected speeches and videos.