Taking risks for peace: EU crisis management in action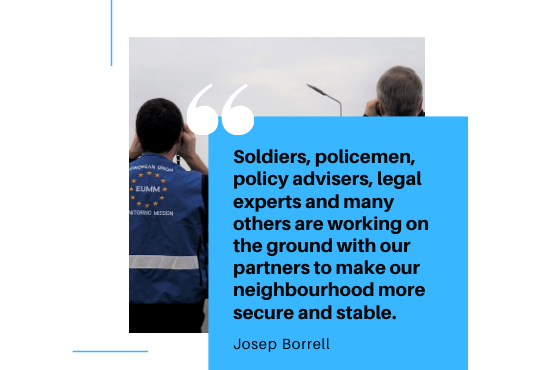 Today I had the pleasure of speaking with all heads of the EU's civilian and military missions and operations. We joined each other in a videoconference that connected Brussels to Africa, the Western Balkans, Eastern Europe, the Middle East – all the regions where EU missions and operations are working. 
It was an occasion to hear first-hand from the commanders in the field how their work is contributing to the security of our partners but also of European citizens. The tasks in which they are engaged range from training and advising armed forces or police, border management, supporting security sector reforms and the rule of law, or fighting against organised crime. For me it was a chance to express my gratitude and admiration for the professionalism of these thousands of women and men who are serving under the European Union's flag, in difficult and dangerous circumstances. 
The security challenges we face are numerous and complex. And the beginning of the year hasn't shown any of them getting easier – quite the opposite. Tensions and violence are rising in our neighbourhood, notably in Libya, the Sahel and elsewhere. And the call for Europe to act and engage is rising in lockstep. If we want Europe's voice to be taken seriously, we need to be ready to act. To combine our soft power and diplomatic outreach with concrete action on the ground. Otherwise the big decisions affecting our own security will be taken by others.
https://twitter.com/JosepBorrellF/status/1220458931098738712
In recent years, Europe has come a long way in strengthening its security and defence policy and capabilities. I am thinking for example of the new command structures created over the past years, the new funding proposals, or the ambitious "Compact" agreed by EU Member States to strengthen the civilian side of our security and defence policy. These steps were driven by an awareness that our security environment is deteriorating and that we have to be ready to take on greater responsibilities as Europeans. In many ways, the most tangible work that can be seen with our eyes and touched with our hands, are our CSDP missions and operations. 
Soldiers, policemen, policy advisers, legal experts and many others are working on the ground with our partners to make our neighbourhood more secure and stable. They train, they advise, they mentor and they monitor. Their work is not just technical, but part of a comprehensive approach, or the European way of building security. They are always based on a UN mandate and faithful to EU's values of peace, stability, multilateralism and human rights. 
Today I stressed that if we want our CSDP missions and operations to be effective, we need to provide them with the necessary personnel and assets. We cannot afford to fail to deliver on our commitments. When we collectively decide to launch an operation or mission, we should make sure it has the right mandate and resources. We must listen to the advice from commanders on the ground on what they need to succeed. 
There are always reasons for not doing more: resource constraints, difficult security situations, etc. But the question is: can we afford it? And the clear answer is: No. Our security depends on the security of our partners. So it is in our own interests to take risks for peace.
MORE FROM THE BLOG
HR/VP box

"A Window on the World" – by HR/VP Josep Borrell
Blog by Josep Borrell on his activities and European foreign policy. You can also find here interviews, op-eds, selected speeches and videos.