"We women, are equal to men, and we have rights that need to be respected and protected, too."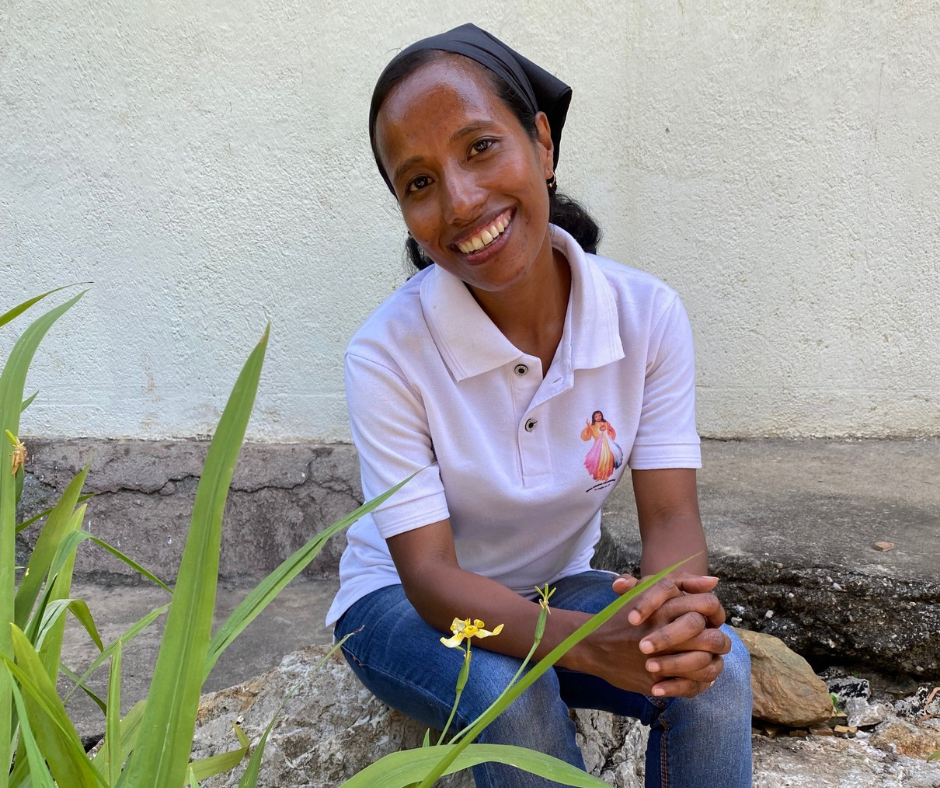 Ina still remembers when she used to play as a child and dream big dreams for her life. What she did not dream of was to become, years later, part of the tough statistics of Timor-Leste where gender-based violence (GBV) is a pervasive problem, with domestic violence being the most common form.
Timor-Leste has some of the highest rates of violence against women of any country. Domestic violence is the most common form. Nearly 60 percent of ever-partnered women aged 15-49 have experienced sexual or physical violence from their partner or boyfriend. Three-quarters of ever-partnered women who had experienced physical violence from a male intimate partner had experienced severe acts of violence, compared to moderate acts.[1] Survivors and victims' face challenges in relation to physical and mental health, social stigma and exclusion, and lack of access to economic resources. Both women survivors and victims of GBV often describe feelings of shame, self-blame, social stigmatisation and loss of support structures, which can negatively affect their ability to participate in community and economic life. All survivors of GBV should be able to access care and support to facilitate healing, social, and economic reintegration. And that is exactly what made the difference in Ina's story.
Today Ina, 33 years old, is excited to be participating with other 34 victims and survivors of GBV on a microenterprise development training. Fokupers, an experience Timorese civil society organisation providing services and support victims of GBV since 1997, has been of vital support to Ina.
Very early in the morning, while still dark, the participants left from different areas around the Manufahi district to attend this training. Covid-19 seems to be under control now, as vaccination campaign happens around the country, so all well masked and following the health protocols, the women are enthusiastic to be together for more learning. The two full days of training, start with ice breaking activities, and strengthening their commonalities and diversity. What follows then are sessions about basic business management, roles and responsibilities, business plan, financial management, and practical steps to open a small business. As they share experiences, questions and dreams, they learn from each other and recognize their strength as individuals and as a group. They already did a life skills training dealing with topics that hardly anyone ever talked about with them before. Some of these topics may be even considered taboo for women: mental health, child education, health and nutrition, leadership skills, communication and negotiation skills, human and women rights, sexual and reproductive health. They always thought that life for women had to follow a set pattern, which was quite defined already by their family and cultural social and gender norms. Life has been always busy. There was never really time, or even an idea that perhaps they should talk about this. Now they recognize that perhaps, if they knew more about these topics, their choices and experiences could have been different.
'I am so grateful that Fokupers was there to help me when I felt hopeless and alone. Though it was really difficult to share my story, I felt really relieved when I did.  I am truly happy to be part of this group, where I am able to share my experience with other women who have been on similar tough journeys. It is also sad to realize that this is a problem that affect young and older women in different places in my country. We talk, we cry, we laugh, we dream, and now we are deciding by ourselves how we want to go ahead with our lives. I also learned that we, women, are equal to men, and we have rights that need to be respected and protected too. Before, for example, I felt that I should not speak my mind, even when I did not agree. Today I feel happy to say out loud what I feel. It is like I am part of this women's movement, and I like it very much because I see I am not alone and I feel stronger somehow', says Ina with a proud smile.
Ina has a nine years old son, and though you may think of her as a fragile lady by her delicate body nature, she is a giant of a woman. This strong inspiring Timorese woman has been rising above her complex experiences and struggles to reach out for a better life for her and her son. She wakes up at 3am to do her prayers, and carry out different chores where she is currently staying. Her big smile as she speaks, confirms her own words of how excited she is with all the new skills and learning from the project activities. She dreams big again, and now her dream is to be able to open a small kiosk. 'Today I am so happy because I already feel like a business women, I know how to do a business plan now, and I know that step by step I am getting closer to my dream. Of course it will be difficult and will take some time, but I am going in the right direction,' says Ina.
Ina is one of the 1,250 women survivors and victims of violence from past conflict and GBV based in communities and in shelters in the districts of Ainaro, Baucau, Dili, Ermera, Liquicia, Manufahi and Oecusse, who is benefiting from the European Union Reforsa Hamutuk[2]project implemented by Hivos in partnership with Fokupers and Assosiasaun Chega Ba Ita.  This action aims to strengthen local NGOs and community organisations in the provision of support for women survivors and victims of violence in order to promote reintegration and access to economic development. Timorese women engaged in enterprise activities are gaining increased capacity to run their businesses, and increased networks and marketing opportunities, leading to increased incomes and economic and social inclusion. Childcare services are allowing them to devote more energy to enterprise. Life skills and vocational skills trainings are assisting victims to rebuild their lives, become more independent, build self-confidence, and access employment opportunities. By the end of this action, this project will support 25,000 women survivors and victims of violence in Timor-Leste, including survivors of past conflict and GBV, and their families. The project started on February 2020 and will end on July 2022 with a budget of EUR 526,999.58 
---
[1] Understanding violence against women and children in Timor-Leste: findings from the Nabilan baseline study; May 2016; The Asia Foundation.
[2] It means stronger together in the Tetum Timorese language.