THIS CONTENT HAS BEEN ARCHIVED
Eurocorps will maintain its effort to support EU' missions
Main Image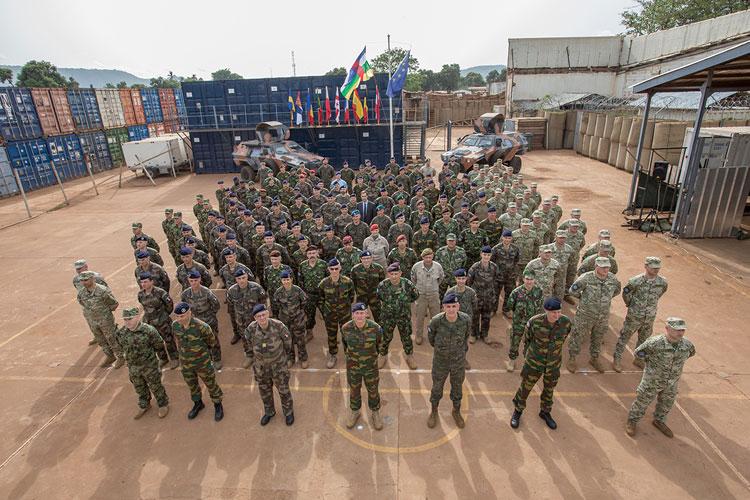 Text
Consequently, Eurocorps will be providing the Mission core nucleus, including its Force Commander and many other key positions, during the first three rotations of EUTM RCA and, therefore, it will maintain its participation since the Mission's birth, in July 2016, until January 2018.
During these eighteen months, more than 200 Eurocorps soldiers will serve in EUTM RCA, showing once again the expeditionary vocation of this multinational headquarters and its deep commitment in the military development of sub-Saharan countries.
But this involvement in EUTM RCA is not the only contribution of Eurocorps to the European Union security and defence efforts. Between July and December 2015, it also provided the core nucleus of EUTM Mali; and, from July 2016 to July 2017, it is playing the role of Force Headquarters for two consecutive European Union Battle Groups.
Eurocorps is a Corps Headquarters located in Strasbourg (France), one of the hearts of the European Union. It was established in 1992 to show the commitment of its founding members to a common defence project. Thanks to its truly multinational structure, its proven operational experience and its innovative modular concept, Eurocorps is perfectly suited to act as a European Union force headquarters.
Perhaps the best advantage of manning the core nucleus of a mission with personnel coming from a headquarters such as Eurocorps is that the previous existing working relations and cohesion of key staff permit a smooth transition and a shorter time to adapt to the new battle rhythm. Daily multinational experience in Eurocorps and a staff used to work at operational level in a comprehensive environment are important added values to successfully conduct a mission such as EUTM RCA.
In essence, Eurocorps has a fully European flavour, with soldiers representing nine Union Member States (Belgium, France, Germany, Greece, Italy, Luxemburg, Poland, Rumania and Spain). These nine countries represent 66% of total European Union population, which gives Eurocorps a strong legitimacy and proves its strong European vocation.
But in spite of this solid European spirit, Eurocorps is not really a European Union institution, but a headquarters at disposal of its Framework Nations. In fact, it also belongs to the NATO force structure, being one of its nine high readiness forces (land) headquarters. This unique dual character clearly promotes the cooperative spirit and permanent partnership between the European Union and the Alliance, making Eurocorps, as stated in its motto, "A force for the European Union and NATO".