THIS CONTENT HAS BEEN ARCHIVED
The Bilateral Map of Brazil-European Union Investment was launched
Main Image
Text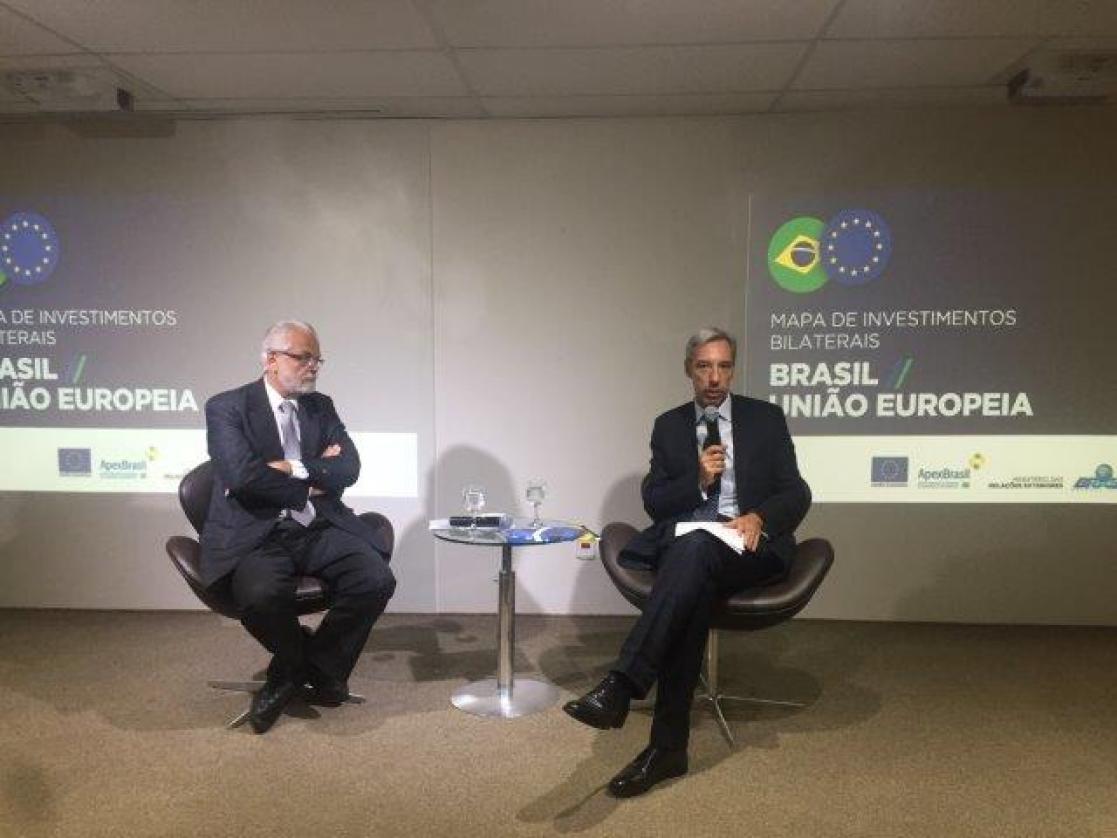 The Bilateral Map of Brazil-European Union Investment was launched on the 21st of September at the headquarters of the Brazilian Agency for the Promotion of Exports and Investments (Apex-Brasil). The event was inaugurated by the Ambassador of the EU in Brazil, João Cravinho and the president of Apex-Brasil, Ambassador Roberto Jaguaribe, and attended by numerous representatives of the EU Member States, Brazilian Government and business community.
The Brazil-EU Bilateral Investment Map is an initiative of Apex-Brazil and the European Union Delegation in Brazil, which aims to map the history of investments between Brazil and the EU in order to demonstrate the strength of the economic relationship between the two, and to support policymakers and investors with useful information for their bilateral investment strategies.
The analysis of the investments made between 2006 and 2015 has shown that Brazil and the European Union have not only a long business relationship but also a strong economic interdependence with robust investments in both directions dispersed in a wide range of sectors, from mining to agribusiness, through to the production of goods and services with high added value. Brazil is the third main destination of current EU worldwide FDI flows and EU is the leading foreign investor in Brazil. Many European companies are managing large investments in Brazil and vice versa, creating new opportunities for market diversification, technology transfer, access to talent and global value chains for business, greater offer of job opportunities for European and Brazilian citizens  as well as safer and more affordable products and services.
It is estimated that FDI of EU companies created more than 278,000 jobs in the Brazilian economy in the period 2006 – 2015, which accounts for half (50.7%) of all estimates of jobs generated by greenfield investments announced by foreign companies in Brazil. The study shows that the generation of investment-related jobs announced by the EU countries is highly diversified in terms of sector distribution. The sectors that created more jobs in Brazil were automotive, metals  and the communications sector, which accounted for 36% of jobs announced in Brazil. Regarding Brazilian investments in the EU, over in the period 2006 - 2015, Brazilian companies announced 115 greenfield investment projects, totaling EUR 2.1 billion distributed among 15 countries of the European Union. The estimated generation of jobs linked to these announced investments was 6,405 new openings.
The study stresses that the European Union is as important an economic partner for the development of Brazil, as Brazil is for the European Union.
In the following links you can download the study in Portuguese and in English: