THIS CONTENT HAS BEEN ARCHIVED
Time for EU to be bold. Mogherini outlines elements of "real work" to start now on EU security and defence
Main Image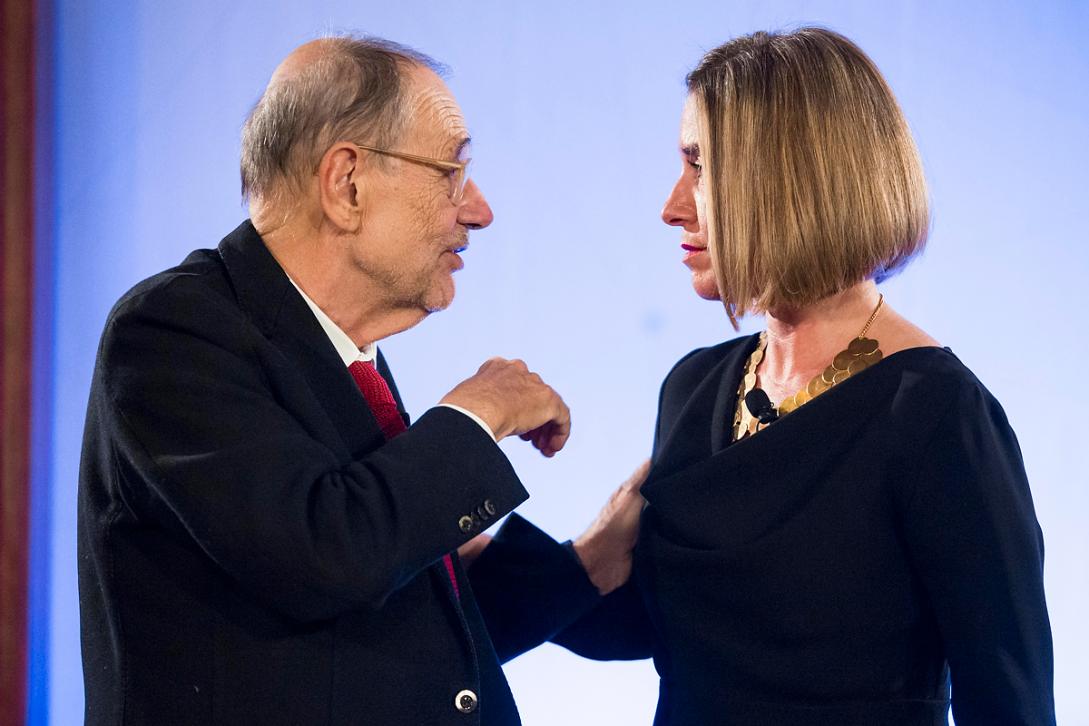 Text
Exactly 10 years ago in 2007, Heads of EU State or Government agreed in the Lisbon Treaty to work "on the progressive framing of a common defense policy that might lead to common defence". It took 10 years before concrete work started to fully exploit the potential and tools foreseen, but on 11 December 25 EU member states agreed to Permanent Structured Cooperation in the field of defence, marking a new era in EU foreign and security policy.
"Welcome to the new European Union, much more than just a single market!" exclaimed Joschka Fischer at the historic Biblioteque Solvay in Brussels where he participated in a discussion with Javier Solana, the first EU high representative, and Federica Mogherini, the current High Representative and Vice President of the European Commission. Facing significant external challenges, it is the right time to strengthen common capacities, said Mr. Fischer
"If you're not bold, you fail. At some point you have to jump," said Dr Solana, reflecting on the current positive political context within the EU for cooperation and the expanded mandate provided to the current High Representative. "It is impressive what has been achieved in just a few months, also thanks to Federica Mogherini," he noted.
On 11 December the Foreign Affairs Council adopted the decision to establish Permanent Structured Cooperation (PESCO) among 25 Member States and with 17 concrete projects already identified.
EU High Representative Mogherini said she had taken the advice given by Javier Solana's upon her assumption of office in 2014 to heart. "You told me I would need ambition and pragmatism" and on this basis, step by step, EU cooperation has gone forward. The real work, however, is now "just about to begin". Mogherini elaborated on six ideas on which she intends submit proposals and rive work forward in the coming weeks: 
Concrete action to provide a contribution to peace and stability in the world including through work on "the possibility of deploying a battlegroup in crisis theatres" and the full use of the existing instruments, in line with the needs of each situation
A new "European Peace Facility" in order to equip the EU with the means and resources to live up to the new joint ambition on security and defence
Close cooperation with partners such as NATO, United Nations, African Union or others in the world including possibly a mechanism for coordination with non-EU countries which would also ensure effective cooperation with the United Kingdom following their exit from the Union
Progress with the EU's civilian missions and capabilities becoming more and more important as tools to address new security threats
Coherence and coordination including by setting up a Defence Union Task Force to ensure coherent results of all the available tools.
A common strategic culture within the European Union by boosting joint military training and education.
On 14 December, the leaders of the participating 25 member states met in Brussels on the side-lines of the European Council to mark the establishment of PESCO