THIS CONTENT HAS BEEN ARCHIVED
Effective humanitarian civil-military coordination
Main Image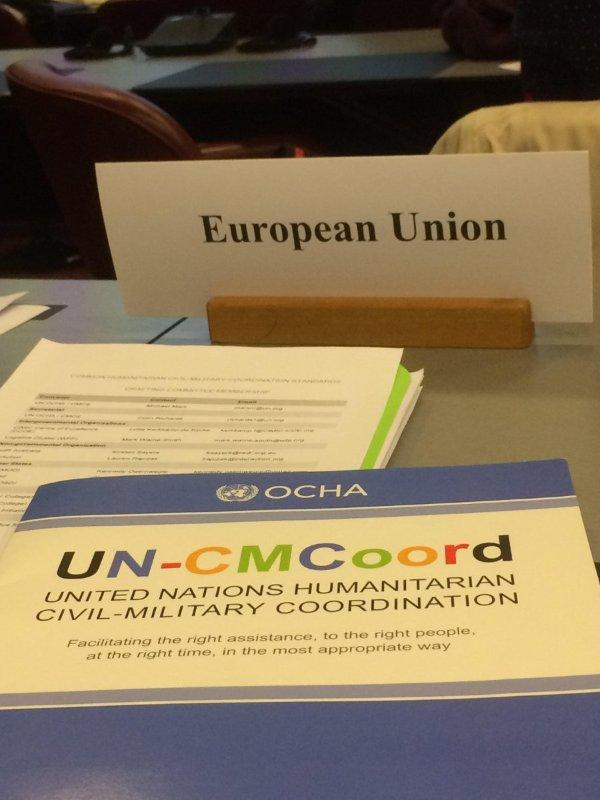 Text
When an emergency or natural disaster creates humanitarian needs, many countries deploy their militaries to respond. Bilateral support to disaster-affected States can also be provided through international deployment of foreign military actors and assets. When local and international humanitarian organizations are also involved in that response, it is essential that they can operate in the same space without detriment to the civilian character of humanitarian assistance.
Ambassador Carl Hallergard, Deputy Head of the EU Delegation to the UN in Geneva, kicked off the debate by stating: "The relationship between the humanitarian and the military community is neither the most natural, nor always the easiest one. Due to the different roles, mandates and objectives of the humanitarian and the military actors, actions may be un-synchronised, diverging or worst even disrupting one to another. At the same time, both humanitarian and military actors need to interact with each other, in many -if not most- cases they share the same terrain." He further underlined that "this shows how important civil-military coordination is and this also explains why the most fundamental principle of humanitarian civil-military coordination is to establish a dialogue between the two sides."
The United Nations Humanitarian Civil-Military Coordination (UN-CMCoord) facilitates dialogue and interaction between civilian and military actors, essential to protect and promote humanitarian principles, avoid competition, minimize inconsistency and, when appropriate, pursue common goals.
Jesper Lund, Chief Emergency Response Support Branch at United Nations Office for the Coordination of Humanitarian Affairs (OCHA), introduced OCHA's role in coordinating and optimizing the use of  civilian and military assets when both are deployed in humanitarian settings. OCHA leads on establishing and managing the interaction between humanitarian and military actors. Mr Lund pointed out that the number of humanitarian crises and military interventions (including UN mandated missions) has sharply increased, thus increasing the need to further clarify the relationship between humanitarians and military actors. He underlined OCHA's role in addressing existing gaps thanks to the exchange of best practices, notably by developing 'Recommended Practices for Effective Humanitarian Civil-Military Coordination'.
https://twitter.com/EU_UNGeneva/status/999553414563549184
Beatrice Godefroy, Director of the Center for Civilians in Conflict (CIVIC) explained that in many contexts – Ukraine, Yemen and the Sahel region – the 'do no harm' principle is an essential part of the CMCoord dialogue. CIVIC's approach is leading the military to amend Standard Operating Procedures (SOPs), recognize wrongdoings, dialogue with affected families and communities, as well as to allocate financial reparations.
Timothy French, Advisor - Global Forces at the International Committee of the Red Cross (ICRC) presented the Red Cross / Red Crescent Movement vision of Civil-Military Relations (CMR). He underlined the distinction between CIMIC, a function that eventually supports military objectives and CMR, Civil-Military Relations that are aimed at fostering closer civil-military cooperation in accordance with  humanitarian principles and without political or other motives.