THIS CONTENT HAS BEEN ARCHIVED
Orange the World and Stop Violence Against Women...
Main Image
Text
Violence against women and girls is one of the most widespread and devastating human rights violations across the globe. It is estimated that one third of women and girls worldwide experience violence at some point in their lives. This violence is a barrier to gender equality, women's and girls' rights and empowerment and overall development, and an impediment to the achievement of the Sustainable Development Goals.
https://www.facebook.com/158402677555776/posts/2091990677530290?sfns=0
The European Union has put substantial actions in place to ensure violence against girls and women is ended once and for all. "Our action is bearing fruit. Things have started to change. Over the last two years, we supported more than 1.5 million girls and women with services for protection and care related to female genital mutilation. 3000 communities, representing 8.5 million people, have publicly announced that they are abandoning this practice," High Representative Federica Mogherini and the European Commission claimed. 
On child marriage, the EU reached over 1.6 million individuals through initiatives designed to change attitudes and practices regarding girls' rights. The EU is also working on concluding the EU accession to the Council of Europe's Istanbul Convention on preventing and combating violence and harassment against women, which provides victims with the right of protection and support.
The European Union will continue to work relentlessly towards this goal. A life free of violence is an inalienable fundamental right: depriving women and girls from freedom, means depriving the world from freedom.
Orange the World - UN Global Initiative
The 25th of every month has been designated as Orange Day by the United Nations campaign Say No, UNiTE, launched in 2009 to mobilize civil society, activists, governments and the UN system in order amplify the impact of the UN Secretary-General's campaign, UNiTE to End Violence against Women, led by UN Women. 
Participants all over the world are encouraged to wear a touch of orange in solidarity with the cause - the colour symbolizes a brighter future and a world free from violence against women and girls.
The 2018 theme is Orange the World: #HearMeToo and like previous editions, the date marks the launch of 16 days of activism that will conclude on 10 December 2018, International Human Rights Day.
A host of public events are being coordinated, among which iconic buildings and landmarks will be 'oranged' to recall the need for a violence-free future.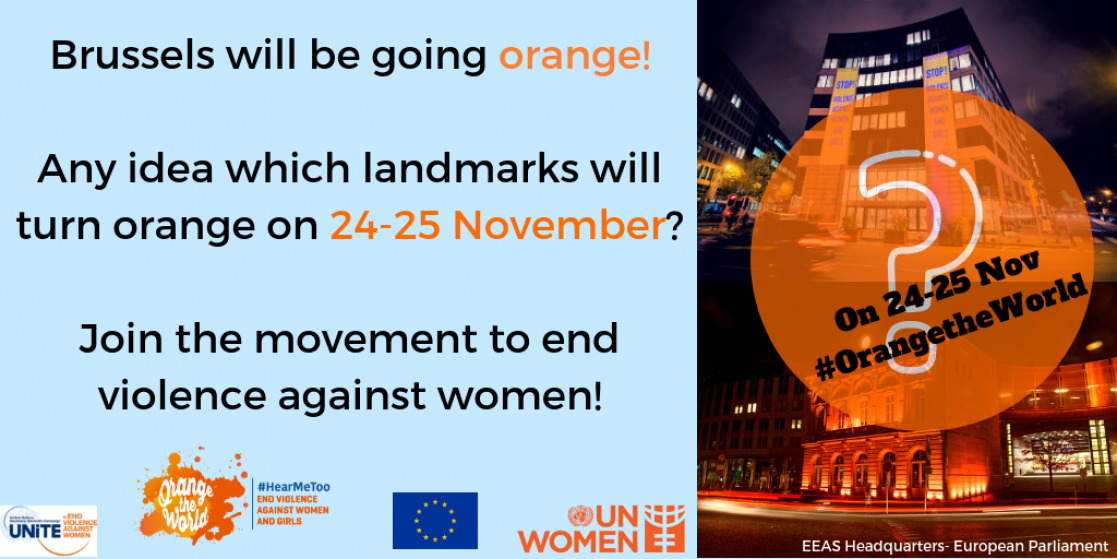 The EU goes Orange too
The European Commission's Berlaymont building, the European Parliament, and the European External Action Service's building will be illuminated in orange on Saturday and Sunday evening, to support the United Nations' campaign on the elimination of violence against women.
And you?
Join the campaign! You can participate in person or on social media via these hashtags:
#OrangeTheWorld, #SayNoStopVAW, #HearMeToo, #OrangeUrWorld, #EndVAW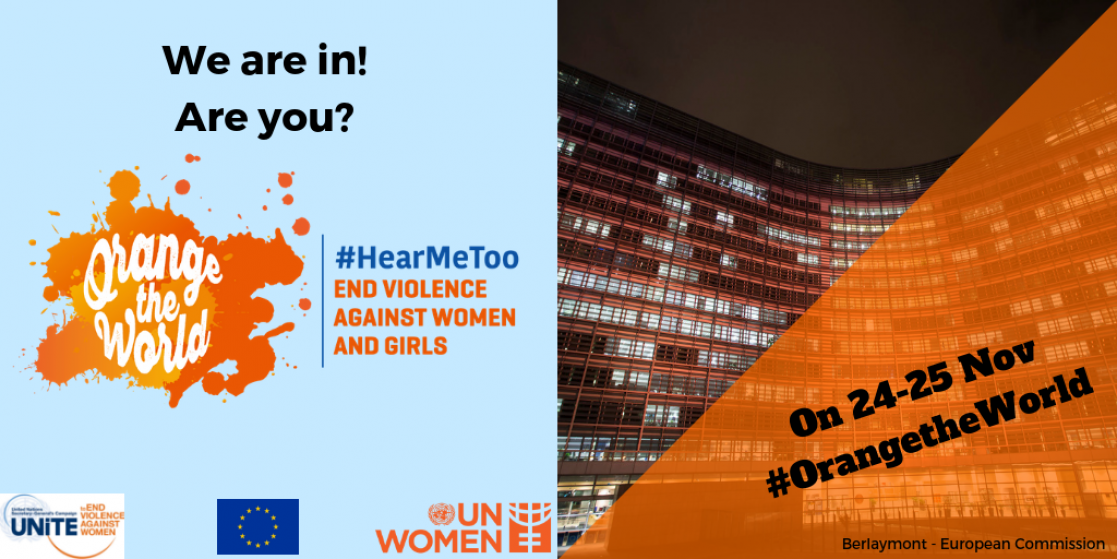 Main image : UN Women/Younes El Moumine