THIS CONTENT HAS BEEN ARCHIVED
EU and partners fostering youth skills - young people's real stories
Main Image
Text
Erasmus for Young Entrepreneurs
Youths aspiring to start up their own businesses or already running successful business and seeking new markets may find the Erasmus for Young Entrepreneurs inspiring. This European mobility scheme which is celebrating its 10th birthday this year, gives budding entrepreneurs the chance to learn from experienced entrepreneurs running small businesses in other participating countries. During a stay with the experienced entrepreneur, the up-and-coming entrepreneur acquires the skills needed to run a small firm. In exchange, the host benefits from fresh perspectives and has the opportunity to cooperate with foreign partners or learn about new markets.
Nelly's story, Armenia-Malta
Nelly explains how back home in Armenia it was not easy for her to start up her own company because women still found it difficult to move on in the entrepreneurial world. As a result of her entrepreneurial journey in Malta, it took only three months for Nelly's company to grow from a small start up to a sustainable business.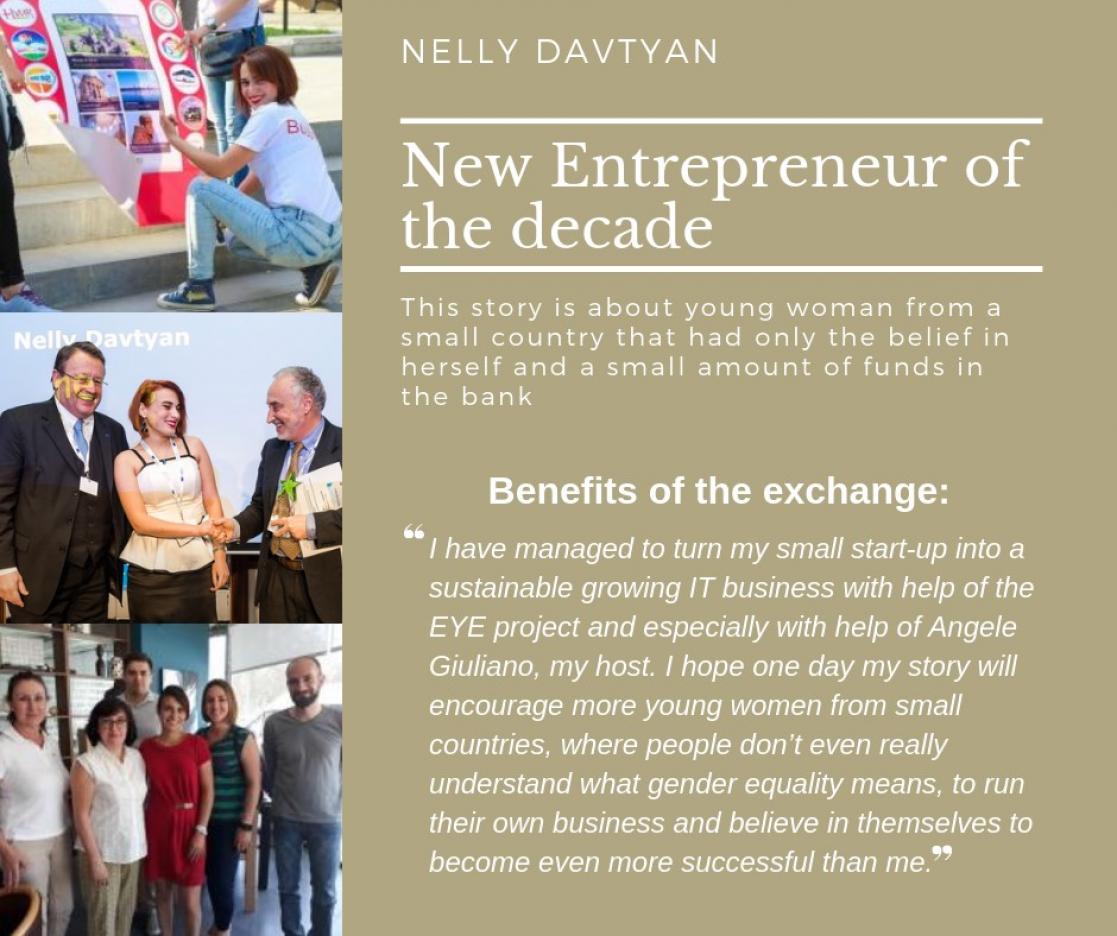 "Тhanks to Erasmus for Young Entrepreneurs, my company has grown from a small start up to a sustainable business. I found in my host entrepreneur Angele, a great coach, a trustful partner and very good friend. This programme has changed my life forever. I went back to Armenia full of energy and hope to expand my company and become a host," said a very grateful Nelly.
> More success stories from Erasmus for Young Entrepreneurs
EU Delegations boosting young people's skills
In all corners of the world we find young people with a myriad of skills. The EU plays a role in encouraging youth to explore and showcase these skills.
Bianca and her friends, Brazil
The EU Delegation to Brazil for example, recently held a Green Competition with the theme 'textiles' to raise awareness among young people of the need to take care of the environment, using social media to creatively to communicate and engage with other youth on sustainable actions with tangible positive ecological effects.
A team of young girls who took to skilfully recycling and upcycling clothes won the competition. We spoke to Bianca, who had a very positive message to share on behalf of her team about their Breshop project:
"Being a winner of the Green Contest makes us proud and stimulates us to move forward. We describe our project as a local initiative to resignify and recover second-hand clothing, with a global view of the textile and fashion industry. This way we seek to encourage young people to consume consciously and creatively reduce their environmental impact."
EU works with partners for youths
The EU also works with partners like the United Nations to allow young people the opportunity to explore their skills via educational and recreational means.
https://twitter.com/UNICEF_UA/status/1138748682780782592
https://twitter.com/UNICEF_UA/status/1139136482852122624
https://twitter.com/UNICEF_EU/status/1150688292918177793
Last year saw the birth of Generation Unlimited (GenU) that was launched together with the EU and other partners. GenU is a global partnership working to prepare young people to become productive and engaged citizens and connecting secondary-age education and training to employment and entrepreneurship, empowering every young person to thrive in the world of work.
At the launch of Generation Unlimited, EU High Representative Federica Mogherini said:
"Investing in the younger generations is, for me, not just an investment in the future, it is an investment on today, on this world. Whenever they tell you that you are "future leaders" - no, you are the leaders of today."
The Generation Unlimited Youth Challenge aims to unleash the creativity of young people across the world in designing solutions to the issues that concern them. The GenU challenge worked with more than 800 innovators across 16 countries to answer the question: how can we ensure every young person has the education, skills and empowerment to build a better future?
The Fantastic Four in Thailand
A team of four male youths who have recently been in Ubekkha Juvenile Training Center in Thailand's Nakhon Prathom Province, won the global Generation Unlimited youth challenge with their creative idea to develop a website to promote employment opportunity for young offenders.
These boys who call themselves the Fantastic Four, realized that young people from the juvenile vocational training center could not find jobs after they left the center. They end up returning to the correctional center not long after their release because, without jobs, they can't earn money and consequently commit crimes again.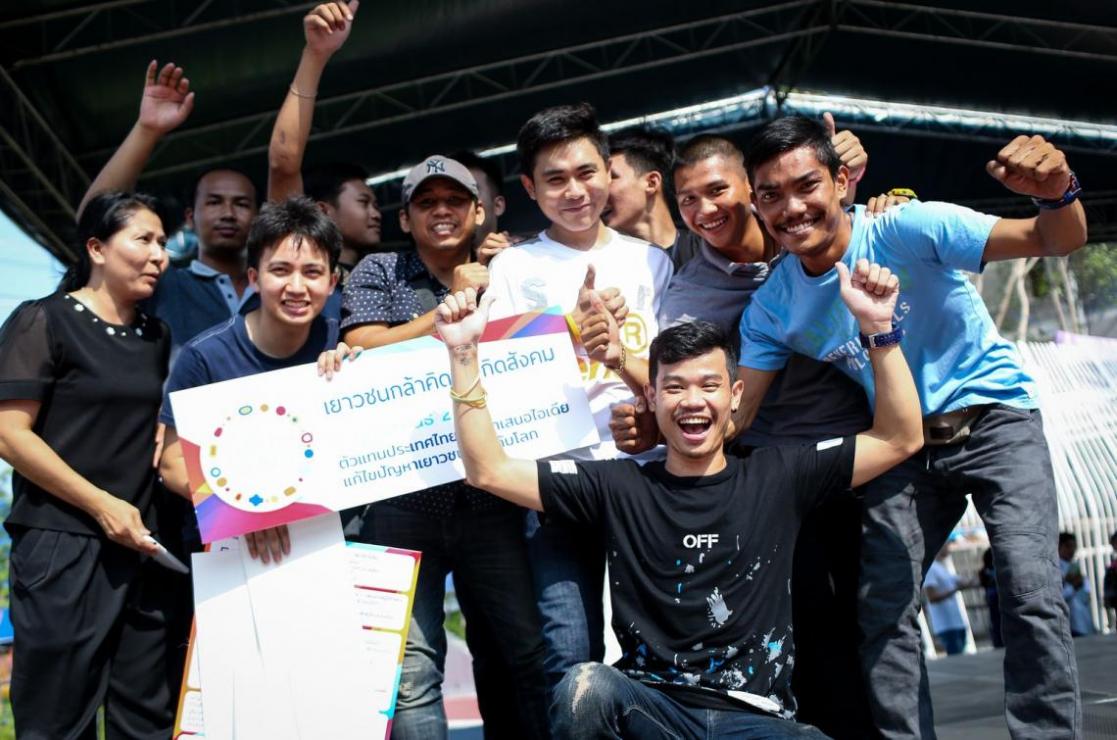 "Our team also used to take the wrong path, but at one point we realized that we were wasting our life. We lost too many opportunities," says Mac, the leader of Fantastic Four. "Everyone who participates in this youth challenge is trying to address the social issues they are facing. This makes us realize that although we have committed mistakes and were born with nothing, if we start doing good deeds, it could become something great!"
> More about the Fantastic Four and the four other Generation Unlimited Youth Challenge finalists from Thailand
Meet Tien & Hau, two inspiring youths from Vietnam
Tien is a 21-year-old young man from Ho Chi Minh City. Due to a genetic disease called osteogenesis imperfecta, Tien has a frame of a young boy and his bones are brittle and fragile, greatly affecting his mobility and daily activities.
"I was jumping with joy when I was invited by some healthy friends to submit a project proposal to 'Generation Unlimited' Youth Challenge," recalls Tien with a twinkle in his eyes. "The disease is so painful that sometimes I cannot bear it," Tien explains. "Nevertheless, I have a dream to develop myself as other healthy people. My mind-set and learning ability is still normal and developing."

Tien with other members of the project entitled 'Diamond Warriors'. Photo credits: UNICEF Vietnam/2019/Van Pham
With the Generation Unlimited program Tien and his friends supported children with the same disability to get access to Information Technology and initially familiarize themselves with STEM (Science, Technology, Engineering and Math) to improve their critical thinking, creativity, and soft skills for better integration into society and expanded job opportunities in the future.
"Last week, we made our own mini microscopes. It was exciting to investigate the microorganism. Overall, the children really enjoyed it and responded positively to the project," Tien said.
"Not even in my dreams I could think that I could learn and understand the tiny microbiological world with a microscope. I have never learned this way at school before!" said one happy child.
Hau who is also 21 years old, was born visually impaired. She is the project leader of "Proud of Life," a Generation Unlimited Youth Challenge that supports visually-impaired children to learn and experience the surrounding environment, including knowledge on biology.
"From being a totally inexperienced person, I have learned a lot of new things, from teamwork to communication and organizational skills. We received training from trainers and mentors, and guidance on how to set up a project," explains Hau. "At the beginning, we faced a lot of difficulties, sometimes, we had to do things from scratch, all over again. But we have moved it forward and been awarded with seed funds to incubate our project," she says proudly.

Hau is one happy bunny as she touches a little rabbit for her first time. Photo credits: UNICEF Vietnam/2019/Van Pham
In the Demo Day at the end of the incubation, Hau and her team organized a demonstration of a "Happy Farm", with bunnies, chickens, and some vegetables for participants to experience the visual impairment with eye bands, an innovative way of bringing people closer and challenge common perceptions about the visually-impaired community.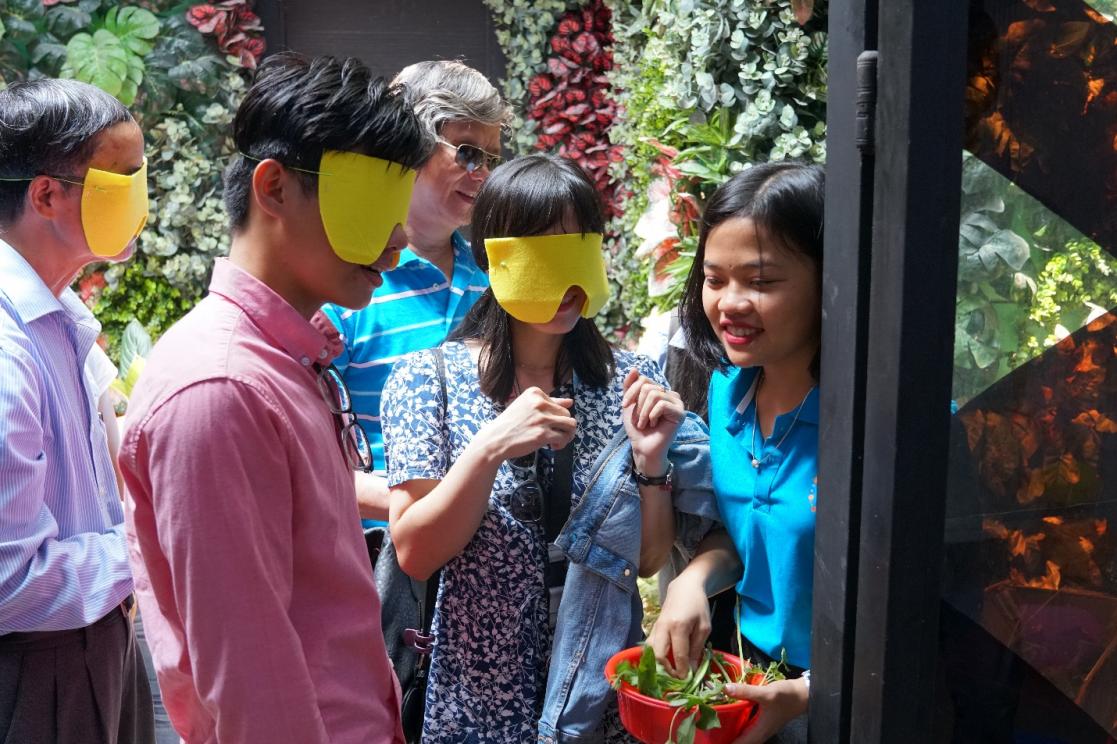 The Generation Unlimited Challenge not only helps vulnerable adolescents like Hau to gain confidence, but also empowers them to get out of their 'safety box' to challenge themselves. With the knowledge and skills gained through Generation Unlimited program, Hau can help other visually-impaired children overcome difficulties and become a voice to the outside world. She is now more ready to take up any challenge and turn it into an opportunity.
- Main Photo by Shehzad Noorani: Children learn carpentry in the city of Agadir, Morocco