Global Exchange on Religion in Society: Building on the positive role of religion for social inclusion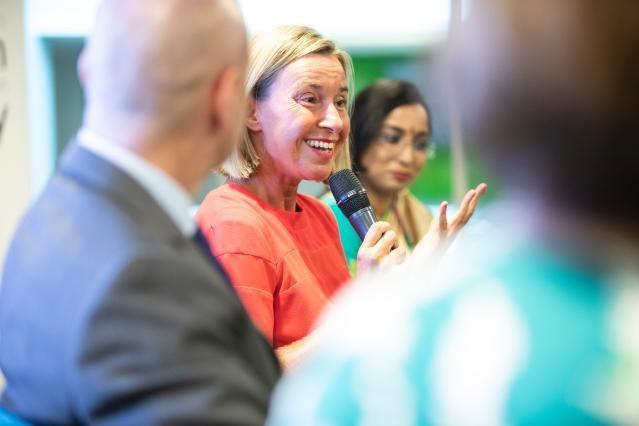 What are a religious leader, a social worker, a scholar and a civil society activist doing in the same room together? A diverse crowd of over 150 participants gathered in Brussels today for the launch of a new Global Exchange on Religion in Society, an international platform open to individuals – believers and non-believers - working on coexistence and social inclusion in religiously diverse contexts. The programme, officially announced by the EU High Representative Federica Mogherini on 6 September, will be launched in full-swing in the first half of 2020.
"NGO workers and grassroots activists experience in their daily work the positive role that religion can play in building inclusive societies", Mogherini said. "With the Global Exchange on Religion in Society we want to connect and empower these people who are already making our societies more inclusive and just. It is an Erasmus for civil society actors working on faith and social inclusion".
A conference held in Brussels to present this new EU flagship initiative gathered over 150 representatives from civil society, governments and religious institutions who shared their different experiences of engagement in religiously diverse contexts across the world: a valuable wealth of wisdom to better understand how the new Global Exchange can complement and interact with existing initiatives.
"Religion has to be part of the solution. But most importantly, I believe in so many places around the world religion is already part of the solution. In all continents, there are people of faith who have chosen the path of respect and coexistence. Not in spite of their faith, but because of their faith", the EU diplomacy chief added.
The world's faithful account for 84% of the global population, with 16% declaring themselves as atheists, according to a 2017 global study by the Pew Research Center. The public discourse on religion often focuses on faith-based conflicts and extremism: yet religion can also play a vital role as a positive force for promoting social inclusion and coexistence.
The idea to initiate the exchange came up in 2016. Following a meeting with religious leaders in Indonesia, Federica Mogherini realised there was so much to learn from those people. It was then that she envisioned an international exchange platform where people working on coexistence and social inclusion in religiously diverse contexts could share their best practices and experiences. Why not use the immense potential of religion to encourage respect and to create new social bonds?
The EEAS then worked with a British NGO – the Lokahi Foundation (link is external) – on setting up a small-scale pilot version of the exchange that ran in 2018. A group of faith and non-faith practitioners from different backgrounds and fields were brought together in London, Beirut and Sofia.
From top left to bottom right: Hayder, Kidist, Bonnie and Ahmed, four of the participants in the pilot version of the Global Exchange.
The stories of Hayder, Kidist, Bonnie and Ahmed (in the video) are just some of the many that crossed paths in an exchange that proved to be a useful tool to learn from one another, acquire new skills and scale-up local positive impact. The excellent results encouraged the idea of launching a full-scale programme that will become a reality in 2020.
The goal is to "connect and empower" people working on faith and social inclusion, Mogherini said. The future exchange will bring together groups of 20-25 people working on the same issue: they will travel to a place with special relevance to the issue at stake, visit local NGOs and institutions, and in the meantime, share their own experience and learn from other participants. They will also take part in workshops to learn specific skills, such as project design or social media campaigning. After the end of each physical exchange, a virtual follow-up will be foreseen.
---
See also